Cooler Master Ergostand II Review
Now that laptops are the core of many DJ's rigs, it's important to keep 'em running in top operating condition. DJ's spend hours optimizing the insides of their workhorses, topping off the memory, installing flash drives and minimizing unnecessary software, but what about the outside? Keeping the unit from overheating is certainly a concern in many over-packed, sweaty clubs, and a proper viewing angle can make a big difference in a performance. Well there are several concerns that make products that address both needs, and we found one that seems to have a stand for every application, even digital DJing. Mixologists meet Cooler Master.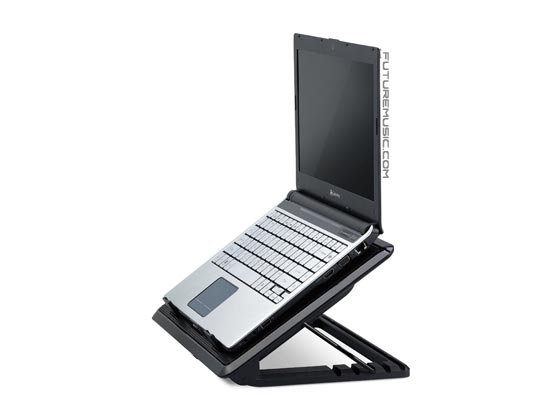 Cooler Master has dozens of cooling solutions and stands for laptops, tablets and even your smartphone. However, they are targeting their Ergostand II as an economical solution for DJs who not only want to provide cooling, and the ability to rise above unschedule beverage spills, but also angle your laptop for excellent visibility. We gave the unit to five different DJs to test over the last few months and you'll find their thoughts in the quotes below.
The Ergostand II features a fan, powered by one of your USB ports, sandwiched between a metal, mesh grate and the plastic chassis. Yes, you just lost one of your beloved and treasured USB ports if you want to power the fan and "retina burning" blue LED "On" light (more on that later), but it does split that port into four, non-powered ports on the back of the Ergostand II. DJs will always want a powered USB hub to fuel their external action, so the breakout will have "none or limited functionality" in their rig, but it certainly is "a nice thought for non-critical missions."
Features & Specifications:
» 5 height settings
» Non-slip rubber feet keeps laptop in place & provides some isolation
» 4 non-powered USB 2.0 outputs; 1 Mini USB, 1 Micro USB
» Fan on/off + Speed Controller
» Blue LED Light – Can be used on Ocean Liners for navigation
» Removable mesh grill for easy cleaning
» Significantly promotes heat dispersion
» Included Accessories: short USB cable

The Quicker Picker Upper
With extended use in clubs and other locales, the Ergostand II did collect a fair amount of grime inside, as well as dust on the fan blades. Not a problem, since the entire affair comes apart easily for cleaning. We were able to effectively freshen up the Ergostand in about 10 minutes start to finish, which means those beer baths won't necessarily be a career-ender for the unit. "Clearly, CoolerMaster did some advanced thinking with the ability to take apart the unit for cleaning. A great feature that many DJs will utilize again and again."

Rise Above
Speaking of beer baths, two of our evaluators cited the huge benefit of raising their laptop above the flat surface not only to avoid spillage, but also to isolate the unit from vibrations. With rubber feet, the Ergostand does "provide some separation from big bass" but one opted for placing two mouse pads on the surface to allow for even more separation.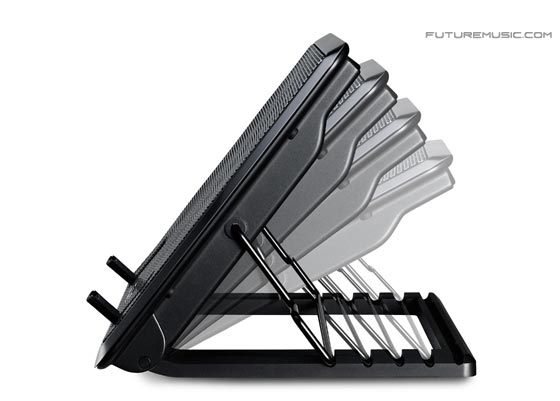 The Cooler Master Ergostand II has five positions


The other big feature of the Ergostand II is the five different height settings for establishing the optimal viewing angle. Each of our reviewers were able to find the right angle for their viewing pleasure "with little fuss" and "Ergostand did not lose its place once set."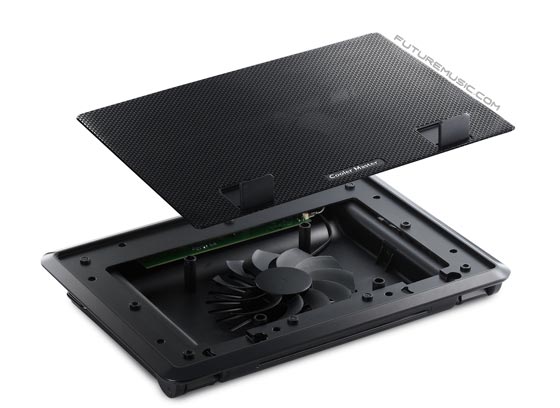 The Cooler Master Ergostand II comes apart for easy cleaning


The fan has a speed adjustment via a rotary knob and a "blinding" blue LED light to tell you it's on. Although, having a light on the unit is "an interesting idea," it was universally panned by all five evaluators, since it basically pointed directly into the eyes of the audience. A far better application would have been to "place it internally to provide a Pimp My Ride neon glow" or to "put it on the front of the unit facing down to illuminate notes or girl's phone numbers."
Although it's not the perfect solution for DJing, the Ergostand II is certainly a valuable option until Cooler Master heeds our The Future suggestions for a DJ specific model.

The Future
Our wish list for the Ergostand III includes a powered USB hub and fan to eliminate laptop battery drain, thicker rubber feet for even better vibration isolation, and for Cooler Master to relocate the LED light to a different location for a more sophisticated aesthetic.
» FutureMusic Rating: 75%


Cheers:
+ Significantly Reduces Heat Buildup
+ Build Quality
+ Fan With Speed Adjustment
+ Ability To Clean
+ Rubber Feet

Jeers:
– Uses USB Power To Fuel Fan
– Way-Too-Bright LED "On" Light
– Non-powered USB hub
Off The Record:
"While not perfect, the Cooler Master is a decent choice for a DJ stand that provides heat management." —DJ Hurricane
"I have no idea what Cooler Master was thinking with that retina burning, blue LED light…" —Dan Brotman
"I really like how Cooler Master included the ability for the Ergostand II to be cleaned without fanfare." —DJ Garth


Cooler Master's Ergostand II retails for $39 and is available now.
Cooler Master JAS Pro Stand Micro Review
We also tested the JAS Pro stand for iPad DJs and found it to be a solid and well-built platform as long as you're not intending on doing any scratching in your sets. All our reviewers had concerns for the rubber cushioning that "just didn't seem to fit seamlessly onto the aluminum" but it didn't separate under heavy use despite looking like "it would Leave The Building at any time." Cooler Master claims that the JAS Pro can accommodate a MacBook Pro or equivalent, but reviewers felt "the Ergostand II was a better solution for heavier laptops." The JAS Pro also weighs in at $69.99, a substantial investment.