Roland Trots Out RC-505 Looper
Roland has announced the RC-505, a next-gen, tabletop beat looper. The new 505 features easy fingertip control of five stereo phrase tracks and various loop playback behaviors, plus INPUT FX and TRACK FX that deliver a wide range of real-time processing options for dynamic, expressive sound creation.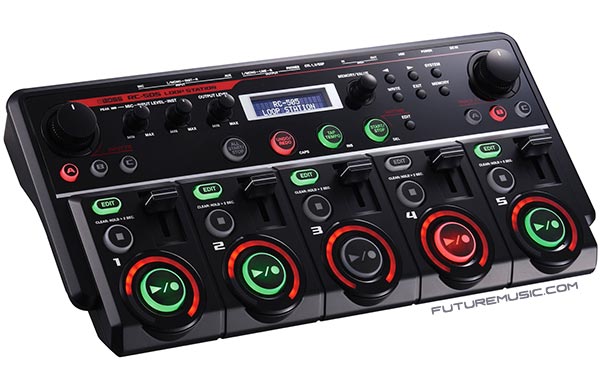 Just plug in a mic, instrument, or other audio source, and then ride the intuitive panel controls to build and mix some amazing loops! The RC-505 also supports computer integration via USB and operation with external pedals and MIDI, opening a world of advanced looping possibilities for all types of musicians.
Features:
» Tabletop Loop Station that can be operated with the hands, perfect for beatboxers, vocalists, and club performers
» Five simultaneous stereo phrase tracks, with dedicated controls and independent volume faders
» Wide range of Input FX and Track FX for processing loops, including DJ and sampler-style effects
» Independent play mode and tempo sync settings enable a flexible combination of track behaviors and advanced performance options
» 99 phrase memories, each containing five phrase tracks, custom effects/playback settings, and more
» 85 onboard rhythm patterns, including odd-measure beats
» External control via MIDI and optional footswitches or expression pedal
» USB for phrase import/export with computers; USB audio/MIDI functionality for integration with DAW software
» XLR mic input with phantom power, mono/stereo instrument inputs, and stereo AUX input
The RC-505 features five stereo phrase tracks that can play simultaneously, the most yet in a BOSS Loop Station. Independent record/overdub/play and stop buttons for each track let you capture and control loop performances with your fingertips, and dedicated volume faders allow you to mix loop levels on the fly. Each track can have its own playback mode (multi, single, one-shot, reverse, etc.) and tempo sync settings, providing an unlimited range of creative looping behaviors.


With the large selection of built-in effects, it's easy to enhance your sounds as you perform. INPUT FX such as ROBOT and VOCODER create unique, dramatic sound textures for recording loops, while TRACK FX like VINYL FLICK and BEAT REPEAT provide dynamic DJ and sampler effects for real-time processing of phrase playback. Six dedicated buttons—three each for INPUT FX and TRACK FX—can be loaded with your favorite effects, giving you one-touch on/off access while looping. In addition, effects parameters (filter cutoff, effect depth, etc.) can be tweaked in real time with the INPUT FX and TRACK FX knobs. Global compressor and reverb effects are also available for processing the overall sound output.
99 phrase memories provide onboard storage for phrase track data, various playback and effects settings, and more. A combination of frequently used settings can be saved as a User Set, which you can easily load to quickly reconfigure any phrase memory, even in the heat of performing. 85 different onboard rhythms offer backing for loop recording, with a large selection of odd-measure beats for advanced looping. The rhythm part can be routed to the rear-panel PHONES jack only, giving you a dedicated click track for monitoring purposes.
Roland