Retronyms Updates Tabletop For iPad To Version 2.0
Retronyms has updated their Tabletop app for iPad to version 2.0. This free update adds several new features including a Timeline Editor, MIDI support, and Session Sharing. Retronyms also announced that Akai's iMPC will work inside Tabletop as the first Tabletop-Ready App. Tabletop is a modular music creation environment for iPad where you can mix and match over 25 different devices including samplers, mixers, effects, sequencers, turntables and more.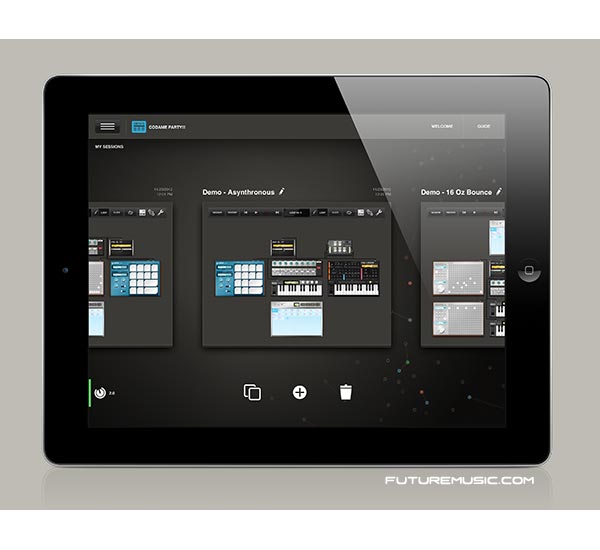 The brand new Timeline Editor is designed from the ground up to provide a fast and powerful way to create and edit notes using intuitive multi-touch gestures:
» Cut, copy, paste, duplicate, and create notes.
» Correct note timing with Fix to Grid.
» Edit note length and velocity.
» Undo any changes and edits with Tabletop's History Menu.
» MIDI Controller Support
Users can control Tabletop devices with their favorite hardware MIDI controllers. Connect with USB via Apple's Camera Connection Kit and use Tabletop's "MIDI Learn" mode to painlessly map controls and set up MIDI devices:
» Features Core MIDI Support
» Works with any MIDI-compatible hardware
» Control Tabletop's keyboards, drum pads, knobs, faders, and other parameters
» Customize control mapping with Midi Learn mode
» Connect multiple devices
» Share Sessions
Tabletop users have shared thousands of songs on CloudSeeder, the in-app community built on SoundCloud, and with session sharing users can now share complete song projects. After a user uploads a track, another can download, remix, and post it back to the community. All building blocks are included in the shared session – from synth presets to custom samples to sequencing data.
An important milestone in the evolution of music apps on iOS, Tabletop Ready Apps are stand-alone apps that work inside Tabletop. When users purchase a Tabletop Ready App, a free version is automatically unlocked inside Tabletop. Users can place apps from top music brands in their Tabletop sessions, seamlessly integrating with the dozens of devices already available.
Retronyms