2012 FutureMusic Holiday Gift Guide
Well it's that time of the year again! And FutureMusic comes bearing gifts. Well, not actual gifts, but FutureMusic-Approved holiday suggestions for that special DJ, producer or musician in your life.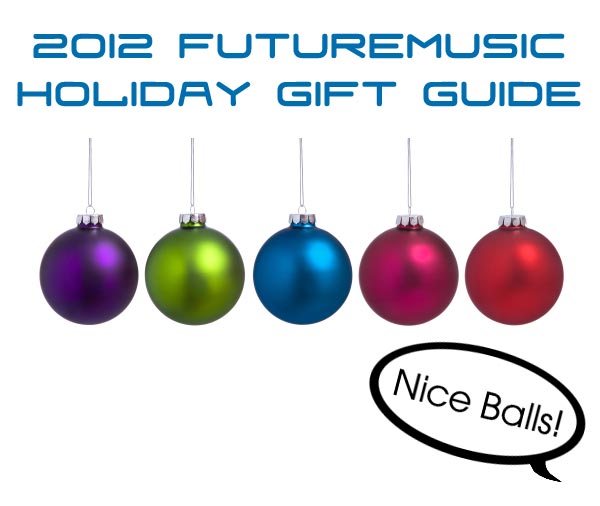 Each one of these products have been tested and evaluated to ensure that your gift is guaranteed to be rewarding and memorable. We linked each product to Amazon for your convenience, but almost all of these products can also be purchased at your local music store, online retailer and your grocer's freezer.


Audio Interface:
Apogee's new Quartet audio interface is a killer solution for producers, guitarists and other audiophiles who are looking for a sleek and portable audio interface that delivers stellar sound quality.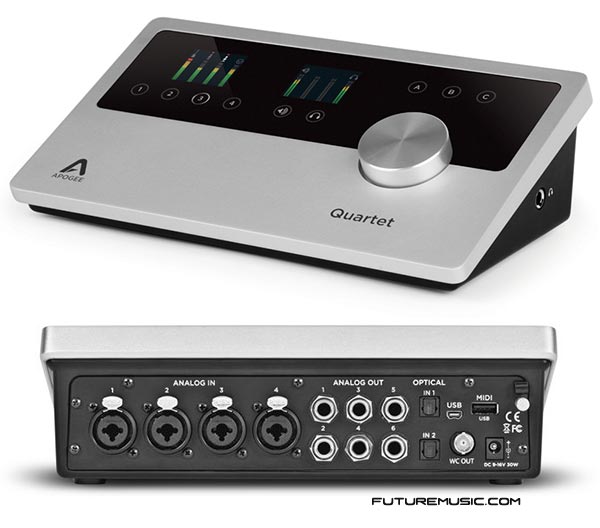 »»» Apogee Quartet

iPad Owners:
With such a multitude of gifts available for iPad owners, it's hard to make a strong impression. However, here's a couple of solutions that won't break the bank, and will certainly be rewarding:
Twelve South's Hover Bar is a flexible stand for your iPad that is equally suited for second monitor duties (Display app additional) or as a cool method for holding your iPad while performing.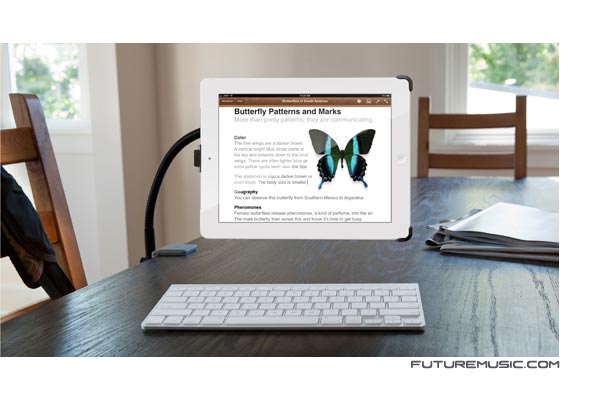 »»» Twelve South 12-1215 HoverBar Version 2 Adjustable Arm for iPad



One of our new favorites is Griffin's StudioConnect, a very affordable audio and MIDI interface dock for the iPad. Small, yet not flimsy, the StudioConnect works great as a convenient audio dock to interface your iPad with the rest of your gear. For only $120 beans, it's almost a no brainer.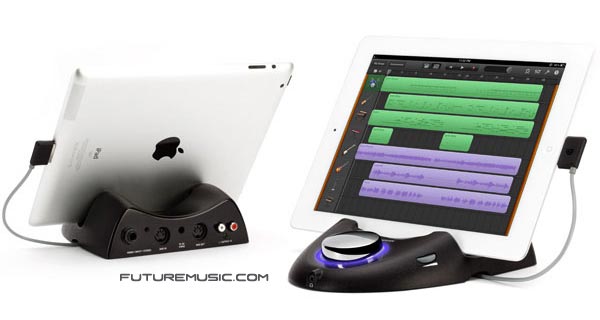 »»» StudioConnect



Mackie's innovative DL1608 blends the latest small-format mixer technology with iPad integration to give you a one-of-a-kind, and thoroughly modern approach to live performance mixing. Incorporate a router into the setup and you can control the mixer wirelessly as you walk around to dial in the rooms tone via 31-band EQ. This is what mixing on the Enterprise must feel like…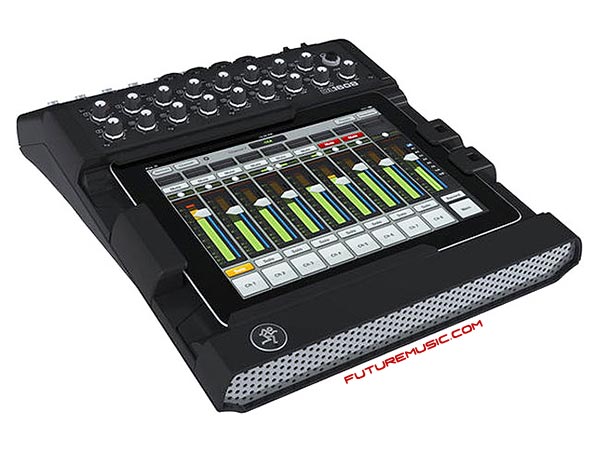 »»» Mackie DL1608 16-Channel Digital Live Mixer with iPad Control


DJ Controller For Native Instruments' Traktor:
There's a lot of controllers out their for Native Instrument's excellent software mixing solution, and most will do the job to varying degrees. However, there are only two solutions that the majority of our staffers use to perform and record. First and foremost, is NI's own Traktor S4, a well-designed 4-channel controller that integrates "natively" with the software and offers quite a bit of control, despite the fact it doesn't have XLR or digital outputs. Now add, NI's Kontrol F1 and you've got a serious weapons-grade mixing system that can blend, mangle, remix and deliver insane sonic power in the hands of a well-trained DJ.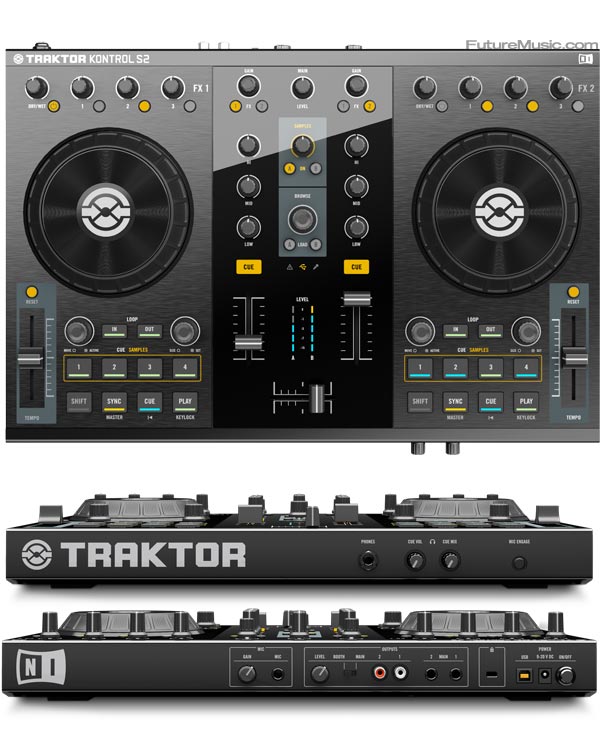 »»» Native Instruments Traktor Kontrol S4



If you want to go completely down the rabbit hole, take the Blue Pill and get your meaty paws on a 4midiLoop. Looking like it came out the R&D Lab at NASA, instead of the mind of Ivo Glanzmann, you will never want for a button, fader or knob. Hand-built using Faderfox components, the 4midiLoop defies every single DJ controller standard to deliver a one-of-a-kind experience that no other controller on the market can match. The 4midiLoop puts 227 controls at your fingertips. That's not a misprint, there are 227 knobs, buttons and faders on the unit. It is housed in a "unibody" chassis fashioned from a single block of aluminum with the best fit'n'finish we've seen on any DJ controller on the market.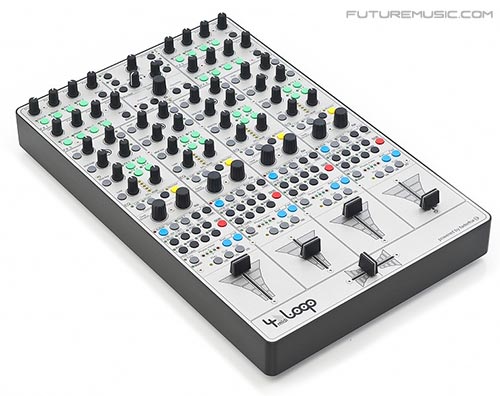 »»» 4midiLoop Controller

DJ Controller For Serato:
There's only a select number of offerings for the controller version of Serato's dynamic software mixing paradigm, but Numark's outstanding ITCH controller, the NS6, went through FutureMusic's own torture test and came out smiling. The NS6 is a standalone 4-channel Digital DJ controller with a built-in mixer, four decks of software control and plenty of action to tweak your effects.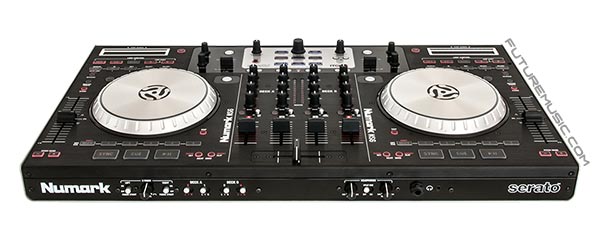 »»» Numark NS6

MIDI Controller:
Again, a category with a ton of viable and quality offerings, but what's got our staffers stoked right now is the new Keith McMillen QuNeo. Super compact and lightweight, it was designed to match an iPad's specs for a multitude of third-party accessory options, the QuNeo has something for everyone. A beginner can just download a template for Ableton Live, Traktor or other popular audio software products and jump right in, advanced users can go to town with the programming utility to dial in exactly what they want. However, what sets the QuNeo apart right now is the "3D" technology that allows the QuNeo to provide multi-touch recognition of pressure, velocity, and location simultaneously, and the visual feedback via 251 multi-color, embedded LEDs. Each of the 27 pads, sliders and rotary sensors, as well as the 17 switches respond to where and how hard you press. The 16 square pads provide 127 levels of Velocity response, X-Y location, and continuous pressure. This is one affordable bit of kit that you won't grow out of… Highly Recommended.


»»» Keith McMillen Instruments QuNeo 3D Multi-Touch Pad Controller


Audio Software:
Narrowing down the software field to a couple of notable entries, is like picking your favorite Playmate. Doable, but not easy. We're going with Ableton Live and you should too. Live 9's official debut is just around the corner, so even if your loved one already has the formidable program, you can swoop in and give him an upgrade. Nice!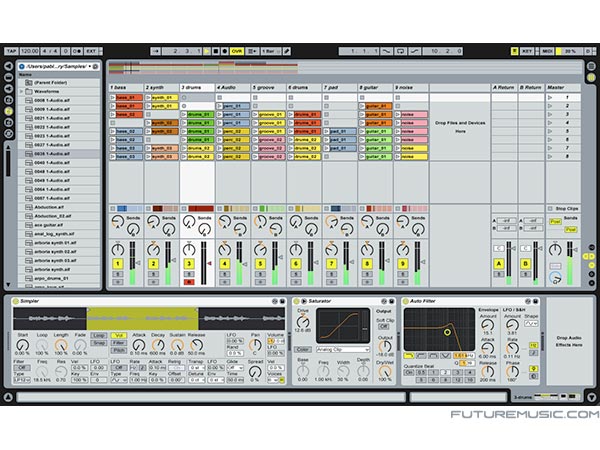 »»» Ableton Live 8



Want a plug-in synth that won't break the bank and sounds incredible? Look no further than Lennar's Sylenth 1. We were one of the first publication that got on the Sylenth bandwagon (see: Sylenth Review) and we're still big fans of the program.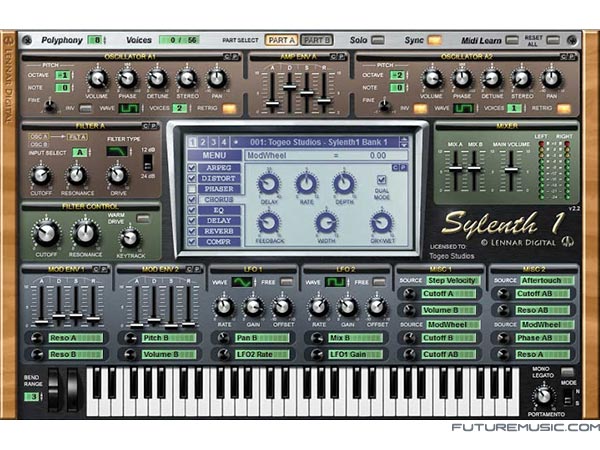 »»» Sylenth

Microphones For $200:
Have a microphone request on your gift list? We'll here's a couple of choices. The R0DE NT-1A Anniversary Model is a complete redesign of the NT1 condenser studio microphone. From the new nickel plated body to the sophisticated surface mount electronic circuitry, the NT-1A is a whole lot of condenser mic for the money. The RØDE NT-1A has only 5 dBA of self-noise, making it one of the quietest mics on the market. If that wasn't enough, the NT-1A Anniversary model includes a premium shockmount with integrated pop filter, high quality 6m (20′) XLR cable, microphone dust cover and an instructional DVD.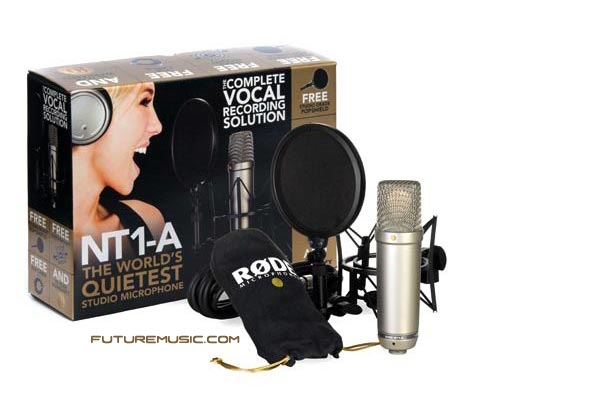 »»» Rode NT1A Anniversary Vocal Condenser Microphone Package



What's that? You want a true tube microphone for $200. Well retailing at closer to $150, we give you the Behringer T-47, a large-diaphragm, tube condenser microphone with a Cardioid pickup pattern. Using a hand-selected 12AX7 vacuum tube for warmth and a vintage sound, the T-47 is a huge value and works great for vocals (including spoken word and podcasting), acoustic guitar, hand-percussion and more. Comes with an external power supply, heavy-duty suspension mount, windscreen and aluminum transport case.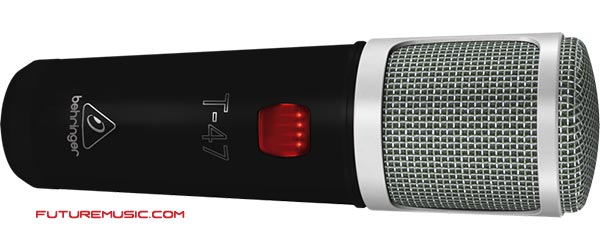 »»» Behringer Tube Condenser Microphone T-47 Vacuum Tube Condenser Microphone

Podcasting:
Got someone on your list serious about Podcasting? Then check out the Broadcast Host by JK Audio for conducting interviews over the phone. Makers of a plethora of broadcasting solutions, the Broadcast Host allows you to record the audio of your caller on a separate channel allowing for a multitude of processing options. Broadcast Host allows you to send mic and line level signals into the phone line while maintaining excellent separation between your voice and the caller. The stereo output jack on the back of the unit provides your voice on one channel and only the caller's voice on the other channel. The balanced XLR output jack contains only the caller's voice.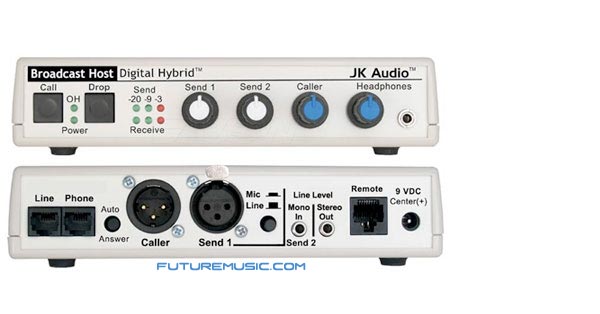 The digital hybrid connects audio signals to a standard analog telephone line without the transmit / receive crosstalk common to analog hybrids. The Digital Signal Processor (DSP) continuously monitors both the phone line and audio signals to deliver excellent separation. This proprietary, dual-convergence echo canceller algorithm can achieve excellent separation, typically exceeding 50 dB, without any setup and without sending a noise burst down the line. Broadcast Host provides connections for a microphone, headphones, mixer, sound card, telephone and your analog telephone line. An auxiliary telephone is only required to place outgoing calls.
»»» JK Audio Broadcast Host


Headphones:
Headphones are a very contentious issue on the interwebs, mostly because sound quality is subjective and the sheer amount of headphone products in the market right now is downright staggering. We'll break this down into two arenas and then let you decide what would be the best gift.
For casual, over-the-ear listening, one of the "go-to" office favorites for our staffers is the V-Moda Crossfade M-80 (See: V-Moda Crossfade M-80 Review). They come in two colors, Black and White Pearl, (a special True Blood version is also available) and you can't go wrong with whatever look incarnation choose. Once that's settled, the M-80 will provide supreme, all-day comfort, excellent sound quality, brilliant construction and true portability for an over-the-ear headphone.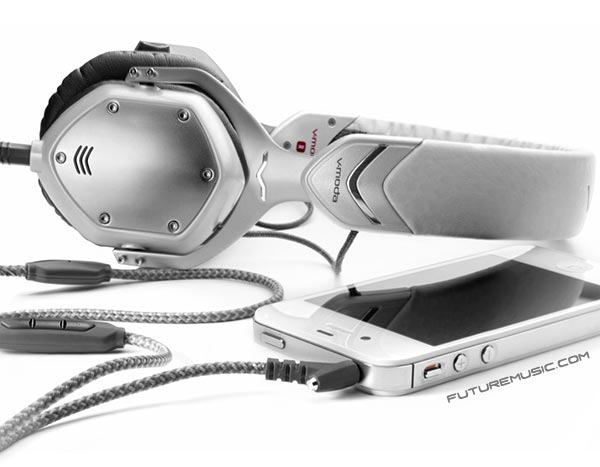 »»» V-MODA Crossfade M-80 On-Ear Noise-Isolating Metal Headphone



As far as DJ headphones, there's a new Sheriff in town by the name of the AKG K550. Brilliant sound quality matched with equally stellar fit 'n' finish, the K550 has unseated last year's AIAIAI as the new champ. Powerful 50mm drivers deliver clear, open fluid sound with rich, but not overbaked, bass reproduction. The build-quality is some of the best we've seen in years for a DJ headphone with metal cups and swivel, which should be able to take a pounding. Not that you'd want to beat these puppies up since they have a modern, understated look that exudes confidence. Well played AKG!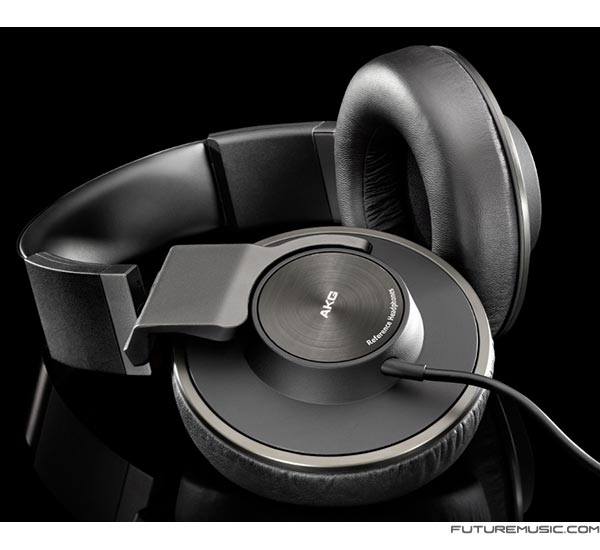 »»» AKG K550 Closed-Back Reference Class Headphones

Dedicated Keyboard Shortcuts:
Our pals at Editor's Keys have dedicated audio editing keyboards for many popular software titles including Ableton Live, Apple Logic, Steinberg Cubase, Avid ProTools (as well as video editing keyboards). Don't want to completely commit to a dedicated keyboard? No problem. Just score one of the Editor Key's unique covers and you're in business!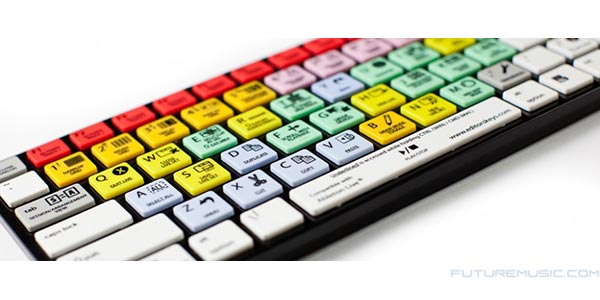 »»» EditorsKeys

Stocking Stuffers:
One of the highlights coming out of Korg in recent years has been their Kaoss brand of effects processors and synths. This entertaining and useful devices have found their way into the rigs of DJs, live performers and even vocalists who want to process and create sonic environments in realtime. The Korg mini KAOSS Pad and Kaossilator have recently been upgraded to version 2 and pack a lot of punch into their small chassis. Used alone or in tandem, these could be the ultimate stocking stuffers.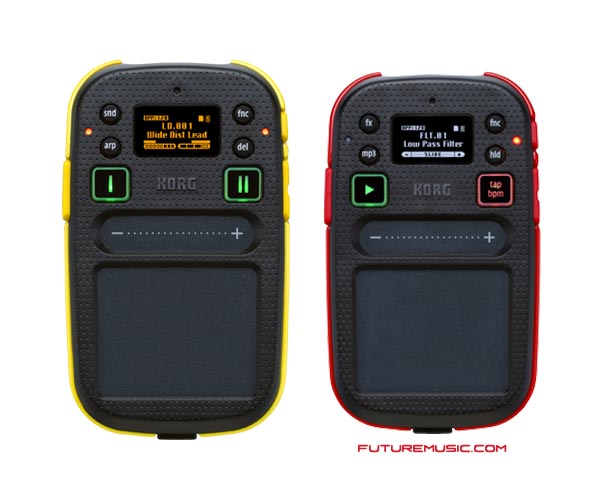 »»» Korg Mini Kaoss Pad 2
»»» Korg KAOSSILATOR 2




Since 1857, the company founded by Mathias Klein have produced some of the construction industry's most well regarded hand tools. The company has leveraged all its history and know-how to deliver a tool for a market segment that most don't pay a lot of attention to… The Klein Bottle opener is like no other with a cushioned rubber handle for comfort and a sure grip and a stainless steel design that is built to last. Professional Grade.



»»» Klein Bottle Opener


Twelve South has developed a speaker enhancement system for Apple MacBooks to augment the onboard stereo speakers and supply some much needed bottom…and believe it not, it really works. So if you have a pal who actually uses their MacBook's onboard speakers on a regular basis, buy them this and call it a day.


»»» Twelve South BassJump 2

Nerf N-Strike Elite Hail-Fire Blaster:
Veteran Nerf Gun battlers know you can never have too many bullets. Although clean-up will definitely be a downer, the Hail-Fire holds, get this, 144 bullets in 8 clips. Marry this to one of the more powerful firing mechanisms that Nerf has produced, and you have a formidable weapon. Bonus: The Chain-Rail handle really tops off the whole look…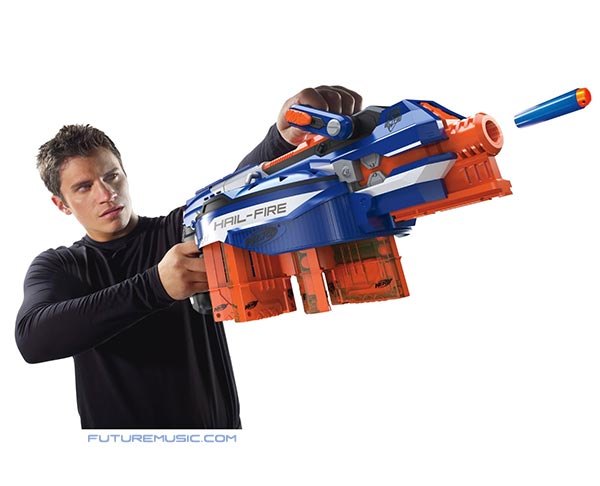 »»» Nerf N-Strike Elite Hail-Fire Blaster


For Bicyclists:
We don't know if it's even possible to adequately describe this product in a short paragraph, so here's a video…




Yeah, we know it has nothing to do with music, but you still want it…



»»» Revolights


Vocalists:
There's nothing worse than having to step up to the house mic to sing at a club. Having to try and showcase your natural gift via a banged up, saliva-caked public microphone is pretty gross. In fact, you might as well go lick a PortaSan's built in urinal. So not only will you be doing your favorite vocalist a hygienic favor, but you may actually strike a win for public health by claiming one of the mic suggestions below. Shure microphones have been around forever and the SM58 is pretty much the defacto standard in every venue around the world. If the singer in question is your girlfriend, you may want to bump up to the Beta58.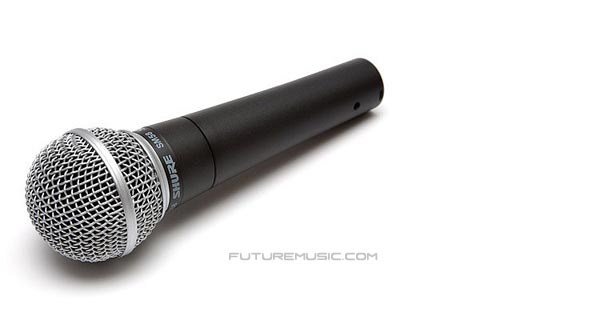 »»» Shure SM58S Vocal Microphone (with On Off Switch)
»»» Shure Beta 58A Supercardioid Dynamic Microphone