Artiphon Announces INSTRUMENT 1 Guitar Controller For iPhone 5
Artiphon has revealed the first public images of their forthcoming INSTRUMENT 1, a pro-level musical device that dramatically extends the music-making capabilities of iOS. Crafted in the U.S. from sustainable hardwood and designed by pro-audio experts, the INSTRUMENT 1 will be available for pre-order in Q1 of 2013.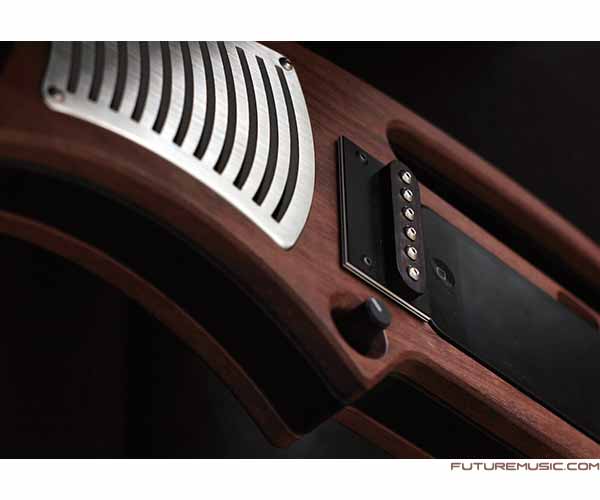 The Artiphon INSTRUMENT 1 is an entirely new kind of musical device. Musicians of all styles and abilities can now interact with iOS music apps beyond the screen, enabling novel expressive possibilities for performance, recording, and just playing around. The virtual fretboard and strum interfaces are force sensitive and tactile, offering the kind of powerful control over subtle dynamics that defines every great musical instrument.
INSTRUMENT 1 claims to extend the functionality of hundreds of apps and allows for extraordinary flexibility in a single device. Songwriters can compose several parts and layer multitrack recordings, right within the instrument itself. Performers can now move freely around the stage with more expressiveness and versatile connectivity. And students can learn multiple instruments at once with a revolutionary ergonomic design and instrument-switching capability.
The body of the INSTRUMENT 1 is inspired by the fluid forms of traditional stringed instruments and is precision-cut from heirloom-quality hardwood in Nashville, TN. It can be held in multiple familiar positions–from guitar and fiddle to lap steel and upright bass. Stereo speakers project rich, studio-quality sound, and its varied inputs and outputs let it play nicely with a wide range of professional equipment.
With a team of pro-audio and consumer electronics experts and two years of iterative development, the design of the INSTRUMENT 1 has gone through multiple functional prototypes and extended testing with musicians. The final prototype is nearly complete and production of the first units will begin in early 2013. The images distributed here are teasers to attract initial customer interest and gesture toward the possibilities of this new category of sonic device. More images and details will be released as the pre-order date nears.
Features & Specifications:
» Compatible with any Core MIDI-enabled iOS app and thousands of audio apps.
» Patent-pending force-sensitive interface with six virtual frets and strings, and a strum section inspired by single-coil guitar pickups.
» Accommodates five playing positions: guitar, mandolin, bass, violin, & lap steel.
» High-quality onboard connections for headphones, microphone, ¼-inch stereo instrument cable, and MIDI in/out, and USB.
» Controls for volume, instrument modes, and octave switching.
» Rechargeable internal battery and 12v power input.
» Integrated high-fidelity stereo speakers and a 30-watt, class-D amplifier.
» Advanced control of multi-track recording apps including GarageBand, Pro Tools, and more.
» Body carved of specialty hardwoods and bamboo from sustainable sources.
Dr. Mike Butera, the twenty-nine-year-old inventor and founder, launched Artiphon with a background in consumer electronics, academia, and professional music performance. With a PhD in sound studies, Butera also teaches sociology at Belmont University, where his courses include The Sociology of Social Networks and Cultural Theory. He has toured and recorded extensively as a multi-instrumentalist in the group Humming House and consults on consumer electronics as a partner at salttt, LLC.
The other five members of the Artiphon team bring broad expertise drawn from their prior experiences at Griffin Technology, API, Otari, Harrison, and more. Senior engineer Jack Jenkins has designed sound consoles for LucasFilm, Sony, and the home studio of Francis Ford Coppola. The INSTRUMENT 1 is the first in a line of audio products based around a central ethos: to touch sound in new ways by combining traditional materials, emergent technologies, and innovatively simple design.
Artiphon will begin taking pre-orders for the INSTRUMENT 1 in the first quarter of 2013, at a price point under $1000.
Artiphon