Algoriddim Launches VJAY Video Mashup App For iPhone
Algoriddim has launched vjay for iPhone. vjay transforms your iPhone or iPod touch into a motion mashup machine for your music and videos.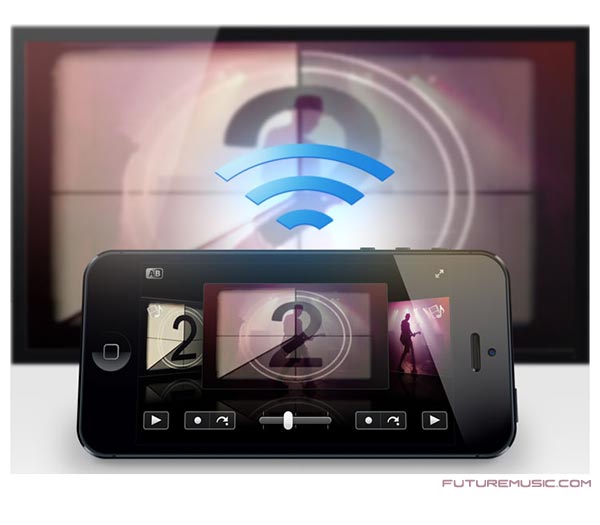 Mix in Portrait & Landscape
With a simple rotation of your iPhone or iPod touch, vjay's user interface morphs between the fully-featured portrait mode and a landscape mode.
VideoScratch
Touch and scratch your videos right on your iPhone's screen, with intuitive gestures to spin forward and backward, scratch, and flick your videos with precision.
Loop, Cue, Slice
Powerful performance tools let you cue, loop, and slice video and music in perfect sync with the beat.
Audio-Visual Effects
Spice up the video and sound with amazing real-time effects by sliding your finger on the intuitive FX touch pad.
Powerful Live Editing:
Color EQs
The 3-band equalizer allows you to seamlessly blend one song into another, while simultaniously changing the video colors as a great effect.
Visual Mixing with Waveforms
vjay's audio wave form display gives you an overview of a song's structure and allows you to visually cue to specific points to prepare the prefect transition.
Beat & Tempo Detection
vjay's on-the-fly audio analysis calculates the beats per minute (BPM) and exact location of each beat, enabling a host of other features including Auto-Sync.
Pre-Cueing with Headphones
By enabling vjay's Split Output mode you can cue songs through headphones independently from the mix that goes through the main speakers for live video DJing.
Features:
» Media Access – Create stunning mashups using all your media on your device, including videos, music, and footage from camera roll.
» Free Pre-Bundled Video Content – Includes over 15 exclusive, free bonus video clips by electro-pop superstars Far East Movement, Eclectic Method, Parov Stelar, J-Live, and more.
» Real-time video transitions, audio visuals effects – vjay comes with stunning audio & video effects, looping tools, visual transitions, and real-time VideoScratch™.
» Live Movie Recording – With a simple touch of a button, easily save your mixes on your device in real-time.
» Instant Facebook and YouTube sharing – Instantly share your personal vjay recordings with friends via Facebook and YouTube.
» Support for external displays – Easily plug into a TV and stream videos wirelessly to Apple TV.
» Built-in camera integration – Quickly record your own video clips using the built-in camera and add them to your mixes on the fly with added special effects.
» Integration with iTunes Store – browse, search, preview and purchase music videos on iTunes from within the app.
» Advanced Audio Tools – Waveforms, Auto-Gain, Automatic Beat and Tempo Detection, BPM Sync, Slicing, Pitch-bending, Cue Point, Looping, Speed Change, Reverse Playback.




Specs:
User Interface
» Dual deck multi-touch VJ interface with individual previews and mixed output
» Audio waveforms display (overview and detail)
» Audio visual effects and looping section
» Visual Cue Points
» Advanced tools:
— 2D FX touch pad, Reverse, Slice , Slowmo, Visual EQs, BPM
» Video Library
» Fullscreen mode
» Audio and video swap
» Double-tap slider reset
» Manual fader cut
» Audio Video Split: fade audio and video independently between the two decks
» Portrait and Landscape mode
Media
» Pre-Bundled Content: Music Video, Footage, Visual Loops
» Direct media library access (Including music videos, music, and footage from the Camera Roll)
» Camera integration: record clips with the device's built-in camera
» iTunes Store integration: Browse, search, preview, and purchase music videos on iTunes from within the app
» Thumbnail previews of your media
» Browse your music by playlist, artist, song, album, genre
» Support for major audio formats like MP3, AAC, WAV, AIFF
» Video formats supported: H.264 and MPEG-4 video up to 1080p, 30 frames per second in .mp4, .m4v and .mov file formats.
Audio & Video
» Automatic Beat & Tempo Detection
» Auto Gain
» BPM-Sync
» Beat-Synchronized Scrubbing
» Audio and Video Scratching
» Tempo control (up to +-25%)
» Pitch-Bend
» 3-band Audio-Visual Equalizer (-24 dB to +6 dB, RGB)
» Audio-Visual FX: Crush, Strobe, Twirl, Fisheye
» 2D FX touch pad
» Audio-Visual Transitions:
» Blend, Cube, Swap, Grid, Mosaic, Push
» Auto Looping: with on-the-fly half/double
» Slicing
» Reverse playback
» Slow Motion effect
» Ultra-low latency
General
» Pre-Cueing through headphones via the Griffin DJ Cable
» Support for multi-route audio (HDMI / built in headphone jack) and multi-channel audio interfaces.
» Audio-Video Recording: with built-in organizer, preview player, and sharing to Camera Roll
» AirPlay integration: stream video and audio to Apple TV
» Direct YouTube export and Facebook sharing
» TV-out: send main mix to a second monitor via:
— Digital AV Adapter (HDMI)
— VGA Adapter
— Composite AV Cable
» iCloud integration
» Auto-Saving (cue points, beat-grids, BPM, wave data)
» Supports Numark iDJ Live, Mixdeck Quad, and ION iDJ 2 Go MIDI controllers
External Hardware Control:
Numark's iDJ Live controller works seamlessly with vjay and is the perfect companion to enhance your audiovisual sets. Control vjay using two large performance platters and a central mixer section with a crossfader, buttons and knobs. Carefully laid out to recreate the traditional two-decks-and-a-mixer setup, iDJ Live allows you to load your tracks and control them, cueing up the start point, performing advanced transitions, and even scratch audio and video.
Algoriddim's vjay for iPhone cost only 99 cents for a limited time.
Algoriddim