Pro Audio DSP Releases DSM V2 & Brainworx Unleashes bx_limiter + bx_XL V2
Plugin Alliance LLC has announced that Pro Audio DSP has released Dynamic Spectrum Mapper V2, plus two new plug-ins from Brainworx bx_limiter and bx_XL V2.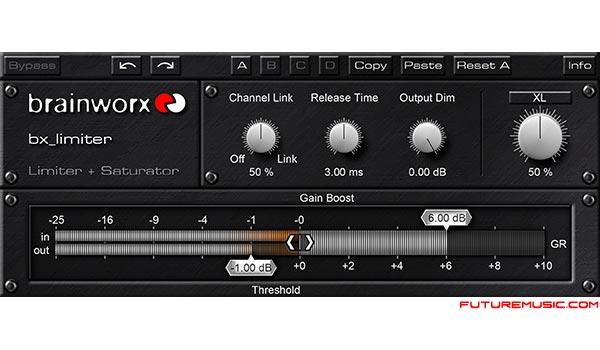 Billed as being a Prismatic Compressor & Metering Limiter, Dynamic Spectrum Mapper V2 was developed by Pro Audio DSP Software Architect Paul Ryder, formerly the principal software engineer responsible for the development and implementation of the Sony Oxford plug-ins and another key member of the Sony OXR-R3 console development team.
In essence, a one-click capture system lies at the heart of DSM V2, which uses adaptive techniques to capture both the frequency domain and dynamic characteristics of any audio material, then deploys this as the basis for a large-scale, multi-band compression process; as a result, it handles programme over a wide dynamic range, even coping with large-scale percussive events. Sonic character can conveniently be mapped between whole mixes, tracks, vocal parts, and instruments. DSM V2 can also serve as a de-esser or vocal enhancer and compressor.
Brainworx's bx_limiter is a simple, but effective low-latency limiter plug-in designed to help determine how many dB of dynamics to reserve for every single signal. Users can create more space and dynamic range for the overall mix by limiting individual signals such as kick drums, snares, lead vocals, and bass.
It's important to structure mixes when mixing in the box; by cutting off peaks and transients in many different channels and stems a computer can output mixes that are 'loud and proud' yet still grooving — and all without unwanted distortion. As such, users will want to use many instances of bx_limiter on a typical rock/pop mix, yet they can blend from link to unlinked modes for stereo mastering purposes. The Wet/Dry control can pull up vocal details in mixes, control bass sounds, and much more.
bx_XL V2 is based upon the M/S technology taken from Brainworx's bx_digital, a high-end analogue M/S EQ developed in 2006/7 and available as a plug-in ever since. As an M/S stereo mastering limiter plug-in, bx_XL V2 internally converts stereo signals into M (mid/sum) and S (side/difference) signals, splitting the M channel into high and low bands; limiting and leveling those three channels individually increases loudness and improves clarity of stereo mixes with much more 'punch' than any other limiter system.
The MidLo channel can cleverly separate kick drums using the Crossover Frequency slider to limit them differently from the rest of the mid signal. Or opt simply for a 50/50 balance on the mid signal so each channel has less peaks to deal with. A perfect partner for bx_digital V2, positioning bx_XL V2 as the final plug-in on the stereo master buss makes for a sophisticated dynamics and loudness control system.
Available in 64- and 32-bit versions, Pro Audio DSP Dynamic Spectrum Mapper V2, Brainworx bx_limiter, and Brainworx bx_XL V2 can be respectively purchased and downloaded (in all Mac OS X and Windows formats — VST 2.4, VST 3, RTAS, AU, AAX) directly from Plugin Alliance for $349, $160, and $329 respectively.
Plugin Alliance