Halo 4 Original Soundtrack & Special Edition Remix Album Arrives Oct. 22nd
In addition to the original soundtrack from famed composer/producer Neil Davidge, renowned electronica musicians DJ Skee, Sander Van Doorn, Apocalyptica, Hundred Waters and more contribute to first ever Halo Remix Album as part of a Special Limited Edition Box Set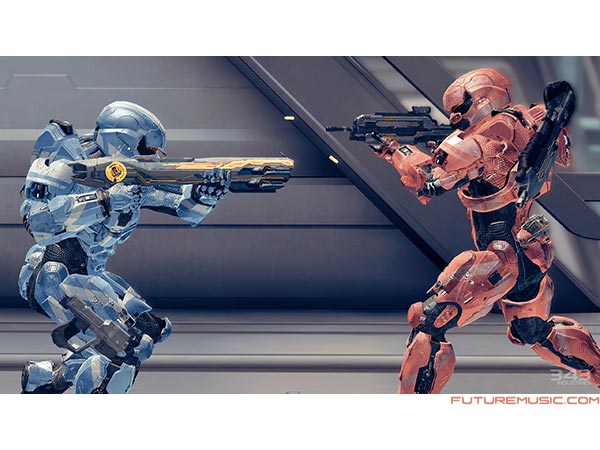 Microsoft and 343 Industries in conjunction with new soundtrack partner 7Hz Productions, have announced the Halo 4 Original Soundtrack (OST) produced by composer Neil Davidge of Massive Attack fame will be available online and in stores on October 22nd. The Halo 4 Original Soundtrack, featuring 15 tracks and over 75 minutes of unique music, marks the first time a new composer has taken the reins for the iconic series musical score since the launch of the original Halo game more than a decade ago.
The Halo 4 individually numbered and limited Special Edition 2-Disc Box Set will consist of the Halo 4 Remix Album, produced by Davidge in tandem with fourteen electronica producers and artists, including DJ Skee, Sander Van Doorn, Gui Boratto, Caspa, Apocalyptica, Hundred Waters, and more.
Pushing the musical envelope, Davidge and his production company enlisted popular electronica producers DJ Skee, Caspa, Sander Van Doorn & Julian Jordan, Gui Boratto, KOAN Sound, Matt Lange, Andrew Bayer, Norin & Rad, Alvin Risk, Bobby Tank, Maor Levi and Hundred Waters, in addition to rock act Apocalyptica and ex-Smashing Pumpkins guitarist James Iha, to create a 14-track remix disk based on the Original Soundtrack. When approached to work with Davidge, these artists not only took his work on the Halo 4 score and shaped it into their own unique sound, but kept true to the roots and feel of the Halo franchise, which has sold over 43 million game copies worldwide and generated nearly $3 billion in revenue.
A summary of the "Halo 4" soundtrack offerings is as follows:
Halo 4 Original Soundtrack (available in physical CD and digital formats)
» Available for standalone purchase of $13.98, the Halo 4 Original Soundtrack features 15 themes from award-winning producer Neil Davidge, co-writer and producer of the pioneering trip hop group Massive Attack.
» In addition, Halo fans who purchase a physical copy of the Original Soundtrack will receive a free download voucher for three exclusive remix tracks and three additional Davidge tracks not included on the soundtrack but featured in the Halo 4 game. These game pieces will not be available on any other platform other than through the physical CD purchase.
Halo 4 Original Soundtrack List and Titles (CD & Digital):
Awakening
Belly Of The Beast
Requiem
Legacy
Faithless
Nemesis
Haven
Ascendancy
Solace
To Galaxy
Immaterial
117
Arrival
Revival
Green And Blue
Halo 4 Special Digital Original Soundtrack
» The Special Digital Original Soundtrack features the full content of the Original Soundtrack, a digital booklet, as well as six bonus remix tracks composed by renowned producer Neil Davidge and remixed as follows: "To Galaxy (Sander Van Doorn & Julian Jordan Remix)," "Awakening (Gui Boratto Remix)," "Revival (DJ Skee & THX Remix)," "Ascendancy (Caspa Remix)," "Requiem (Bobby Tank Remix) and "The Beauty of Cortana (Apocalyptica vs. Neil Davidge Remix)."
Halo 4 Special Edition 2-Disc Box Set (available direct to consumer)
» Available for preorder today for $75 (U.S. ERP), the "Halo 4" Special Edition 2-Disc Box Set includes:
— Halo 4 Original Soundtrack
— Halo 4 14-track remix album
— Exclusive Making of Halo 4 Music DVD containing over 70 minutes of unique behind the scenes footage, interviews and recording sessions from Abbey Road
— Exclusive hardcoverbook on the Making of Halo 4 Music featuring production and composition notes from Neil Davidge plus exclusive behind-the-scenes photos and exclusive artwork images
— Exclusive 12" Neil Davidge signed art print
— Exclusive 180g heavy weight 12" Vinyl Full color Picture Disk of Master Chief and Cortana in a uniquely designed Sleeve bag
— Exclusive Avatar T-Shirt download (Male & Female)
— The first 5000 orders will all be individually numbered in a limited series and personalized by Neil Davidge
— Preorder
Halo 4 Remix Album Track List and Titles:
1. Awakening – Gui Boratto Remix
2. Green And Blue – KOAN Sound Remix
3. Requiem – Bobby Tank Remix
4. Ascendancy – Caspa Remix
5. To Galaxy – Sander Van Doorn & Julian Jordan Remix
6. Haven – Hundred Waters Remix
7. Revival – DJ Skee & THX Remix
8. Ascendancy – Matt Lange Remix
9. Nemesis – Alvin Risk Remix
10. Solace – Maor Levi Remix
11. Arrival – Norin & Rad Remix
12. Green And Blue – Andrew Bayer Remix
13. Foreshadow – James Iha Remix
14. The Beauty Of Cortana – Apocalyptica vs. Neil Davidge Remix