Vestax Introduces VCI-380 Controller
Vestax has debuted the VCI-380, a 2 channel DJ controller with a built-in Digital DJ mixer. Mix, scratch, cue, effect, sample, trigger, loop, slice and/or unleash the controllerist in you — Every feature of the VCI-380 is optimized for the latest edition of Serato's ITCH mixing software.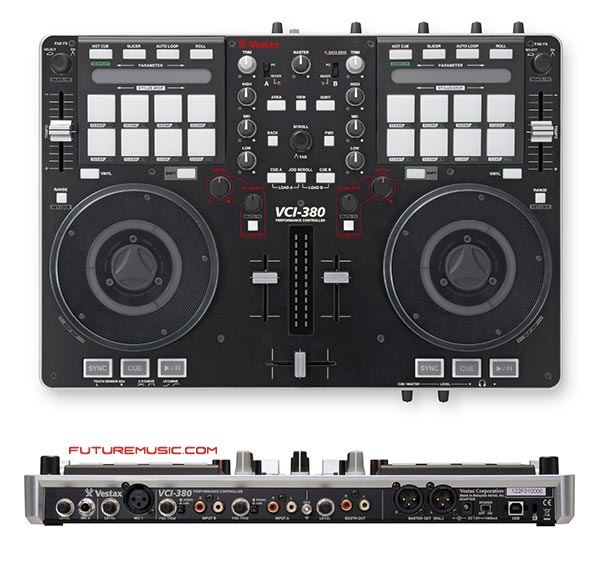 The 2 x 8 banks of FSR trigger pads on the VCI-380 contain Performance Modes such as the Slicer, Roll, Sampler, Loop, Hot Cue and Pad FX. With the given features you can trigger cue points, samples, loops, slice up beats, and shoot off Pad FX together. Pad FX creates combinations to manipulate music: holding each pad (aftertouch) will modify the FX parameter, along with triggering Performance Mode functions. Effects are an essential tool to spice up your performance; in addition to Pad FX, each deck features classic FX controls. The Ribbon control on each deck alters the parameters of Pad FX, swipes, holds and needle drops tracks.
Features:
» 2 Channels USB MIDI controller for Serato ITCH
» Built-in 24Bit/48kHz audio interface
» 2 x 8 Performance Pads with Velocity & Aftertouch
» 5 performance modes (Hot Cue, Auto Loop, Slicer, Roll, Sampler)
» PAD FX function
» Channel FX controls
» Ribbon (strip) control for Pad parameters and Needle Drop
» Large scale 5 1/3 inch jog wheels with needle position display
» 2 Channel stand-alone audio mixer with Phono / Line input
» Hi-Pass filter, Trim and 3 band Eq on stand-alone mixer.
» 2 Mic inputs with volume control
» Balanced Master output (XLR) & Booth output (RCA)
» 19″ rackmount kit (optional)
» Robust metal body construction
» CFX-2 (Digital Crossfader) compatible
The jog wheels from the Vestax VCI series have stepped up in their game with an advanced structure and larger platters for extra stability and smoothness. The platters of the VCI-380 are highly responsive, transmitting MIDI signals with accuracy. The LED needle point embedded in the jog wheel provides visual monitoring, indicating the decks playback position. The torque of the jog wheels can be adjusted to your preference, and as like all VCI series controllers you can pitch bend the track by touching the sides of the jog wheels.
The stand alone mixer function of the VCI-380 with the two hybrid channels are capable of mixing external devices such as CD players, turntables and MP3 players, together with tracks and samples Serato ITCH is playing. Each channel has an RCA Phono/Line input for versatile connection options, and the crossfader and input faders curve can be adjusted like any DJ mixer. Mixes with the input source can be tweaked with Trim, EQ and in addition, the FX knobs on each channel function as Hi-Pass filters, to add an extra touch to your performance.




Controllerism is the art and practice of using musical software controllers (e.g. MIDI, OSC, Joystick, etc) to build upon, mix, scratch, remix, effect, modify, or otherwise create music, usually by a Digital DJ or "Controllerist." The term was coined by Moldover in 2007 and popularized by others to describe the process while paying homage to and giving respect to the art of turntablsim.
Vestax