Elysia Releases Nvelope 500 – Stereo Dynamic Processor
Elysia has released the nvelope 500, a new 500 series two-space stereo dynamics processor. Elysia claims the nvelope 500 is capable of making subtle or drastic changes to a sound by altering its impulse structure, providing direct control over the envelope of a signal by shaping the intensity of its attack and sustain.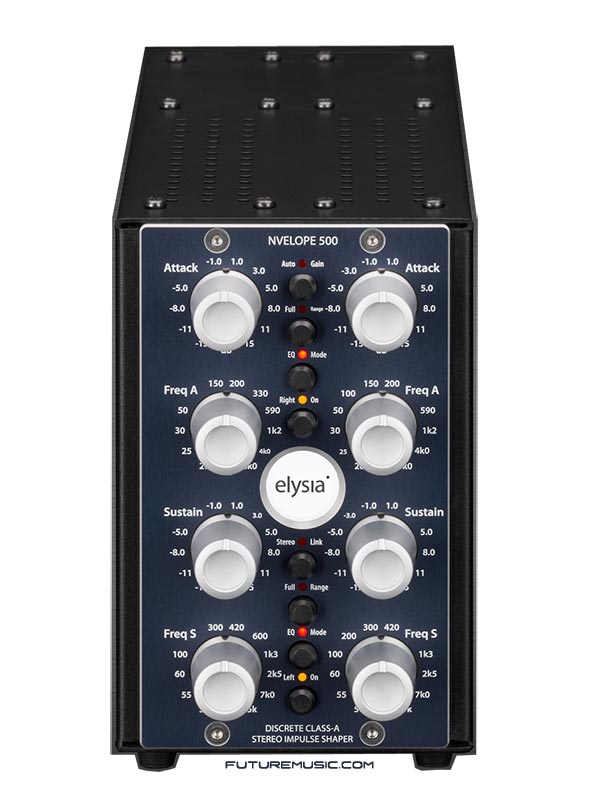 The nvelope 500 is primarily intended to shape individual signals, but it can be an indispensable resource in mixing applications as well, as it can subtly shift a sound towards the front of the mix using more attack and less sustain, or blend it gently into the background by reducing its attack and increasing its sustain.
Another powerful and unique feature of the nvelope 500 is the enhanced tweakability offered in Dual Band mode. Individual frequency controls for attack and sustain yield precise results while avoiding unwanted artifacts, even when utilized on complex material like a summing bus. The nvelope 500 can be used on many different instruments such as drums, percussion, bass, edgy guitar, acoustic piano and even on full mixes. That said, the impulse shaping process works optimally on audio signals with a significant/percussive attack structure.
The nvelope 500 offers true dual mono or linked stereo operation in Full Range, Dual Band or EQ mode. It is made in Germany exclusively using top quality components, gold plated PCBs, a rugged 4mm aluminum front panel and solid aluminum knobs.
Elysia's nvelope 500 is available now for $1049 / €649.
Elysia