Porter & Davies Announce BC Gigster – Tactile Bass Drum Monitor
Porter & Davies has announced the BC Gigster, the baby brother of their original BC2 tactile bass drum monitor. The BC Gigster is a silent bass drum monitoring system which allows you to feel and experience your bass drum tactically via bone conduction. It consists of an outboard Tactile Generator and a specialized Patent Pending drum throne to deliver powerful, precise reproduction without sound.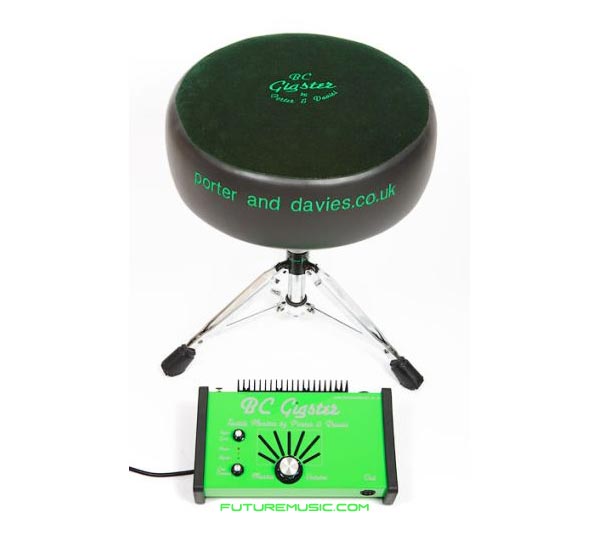 The new BC Gigster is made from the same superior components as the BC2, and although it has slightly fewer features, the new specification still gives the same level of performance giving you great connectivity to your drum kit whilst playing and recording. At Porter & Davies we have designed the new BC Gigster with the working musician in mind making it lightweight, ultra-compact and very comfortable, with a throne top which is compatible with most major branded stool bases. It is so easy to use: It is literally designed as a "plug in and play" with both acoustic and electronic drums.
Whereas the BC2 remains the top pro choice with airline specification flight case, phantom power selector, voltage switch and the facility to allow both line or mic input to be mixed together simultaneously with independent control, Porter & Davies has simplified the packaging, stripped away the non essential features, and bought to the market a budget-friendly form of the BC2.
If you're using in-ear monitoring, you'll be able feel the bass drum like never before. If you're not using in-ears, this system so accurately connects you to your bass drum that it will improve your confidence, groove, playing and whole stage experience.
Porter & Davies