SmithsonMartin Release Emulator FT & Emulator Modular
SmithsonMartin has released Emulator FT, a software only product for Native Instruments' Traktor that allows you to translate Traktor to any touch-screen enabled computer. The release is for Windows 7, but a Mac version is reportedly in the works.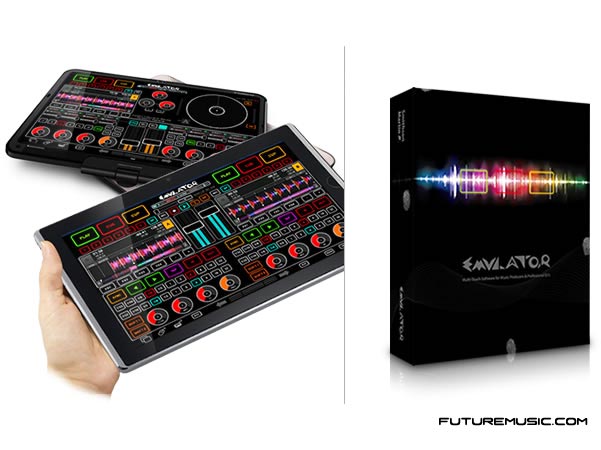 Emualtor FT is the first native multi-touch software for Microsoft's Windows 7, that allows you to convert even a simple Tablet PC into a multi-touch MIDI controller with your own completely customized interface. No in-depth special programming or configuration is required, you simply utilized a Photoshop or Paint palette to set up all the controls you desire to interface with Traktor.
Emulator FT has more than 130 MIDI buttons, knobs and sliders covering most of the common features of Traktor Pro, but we would have liked to have seen some really creative, out-of-the-box elements thrown-in as well. Hopefully this type of fun will be incorporated in future update, which brings us to a their new fangled software license.
SmithsonMartin offers two options for Emulator FT: A Lifetime license for $499 or an Annual license subscription for $199. The concern claims that will offer future upgrades and new software products as free upgrades for all our registered users. Their pitch is that a user should not pay for software updates and upgrades as long as they are paying customers. Although, this model could work with established companies like Avid, Apple and Steinberg, it may be a stretch for consumers to "buy-into" a lifetime subscription, if they don't have a lot of confidence in the company's longevity. Additionally, 200 beans for only a year's worth of Emulator action seems pricey to us. The company asserts that "the annual subscription is good for people that like to start slow and don't want to spend a lot up front." But if the software times out after a year, there doesn't seem to be a lot of value for individuals who want to ramp up at their own pace.




Emulator Modular is another software product that allows you to turn any multi-touch device into a powerful MIDI controller, not just Traktor. Like the FT product, Modular provides the ability for a user to create their own customized approach to MIDI control without the need for sophisticated programming knowledge. Emulator includes a complete list of objects so you can custom design your own multi-touch interface with buttons, sliders, circular knobs, jog wheels and many more and claims to be able to work at any resolution. Similar to how JazzMutant fostered a community of users to share their own creations, SmithsonMartin will support a forum where users can freely share their own brainstorms. Like FT, Modular is only for Windows, but a Mac OSX version is currently under development.
The Future: We're not to bullish on their software licensing model, but the concept is certainly exciting. We have a feeling that Native Instruments could be cooking up something similar for a Messe debut, but for users of Ableton and other performance software, this is a compelling offer.
SmithsonMartin