Ion Audio Unveils Guitar Apprentice
Ion Audio has unveiled Guitar Apprentice, a guitar learning tool based on the same philosophy as their Piano Apprentice product.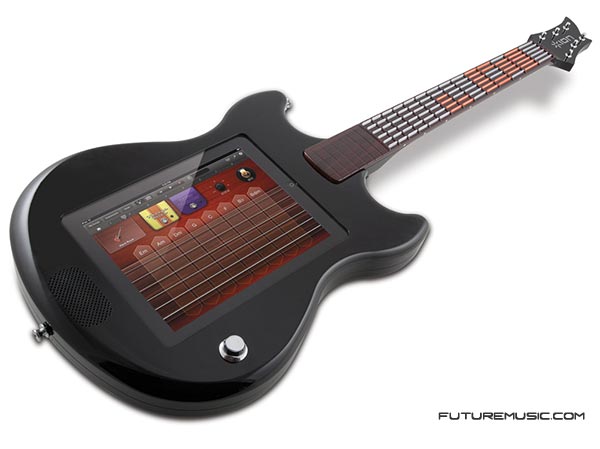 Guitar Apprentice is a full-scale, electric-guitar-style controller that transforms iPad into an amazing guitar-learning experience. Simply place your iPad into Guitar Apprentice's fitted holder, open the Guitar Apprentice app, and you're ready to go. Guitar Apprentice can be played anywhere as it requires no cables or external connections. Guitar Apprentice's strings can be strummed together or plucked individually, and its 14 fretboard-fret buttons mean you can easily play thousands of songs.
Features:
» Full-scale guitar body with strap pegs
» Fitted iPad holder with 30-pin dock connector
» Lighted fretboard and free guitar-teaching app* teach you basic guitar skills
» App includes built-in effects: distortion, reverb, flanger delay and more*
» Built-in speaker with volume control — play anywhere!
» Access to iPad headphone input for silent practice
» Works with GarageBand and dozens of popular iPad apps
» Core MIDI-compliant
Using the Guitar Apprentice app, you can follow the lighted LED's on Guitar Apprentice's neck and become a skilled guitarist in no time. The Guitar Apprentice app even includes built-in effects, so you can make your Guitar Apprentice sound classic, heavy or just plain outrageous as you mix and match distortion, reverb, flanger, delay effects and more. Guitar Apprentice is Core MIDI and is compatible with dozens of popular iPad apps, including GarageBand.
Ion's Guitar Apprentice will cost $99 (iPad not included) and be available soon.
Guitar Apprentice