Moog Unleashes Minitaur – A Moog Acid Box!
Moog Music has announced Minitaur, the newest addition to Moog's Taurus Bass Synthesizer family. Minitaur is a compact and powerful Roland TB-303 clone analog bass synthesizer that features a TB-Like one knob per function layout. Without the typical Taurus foot pedals, and weighing in at less than 3 lbs, the Minitaur puts yummy Moog analog bass into the palm of your hand.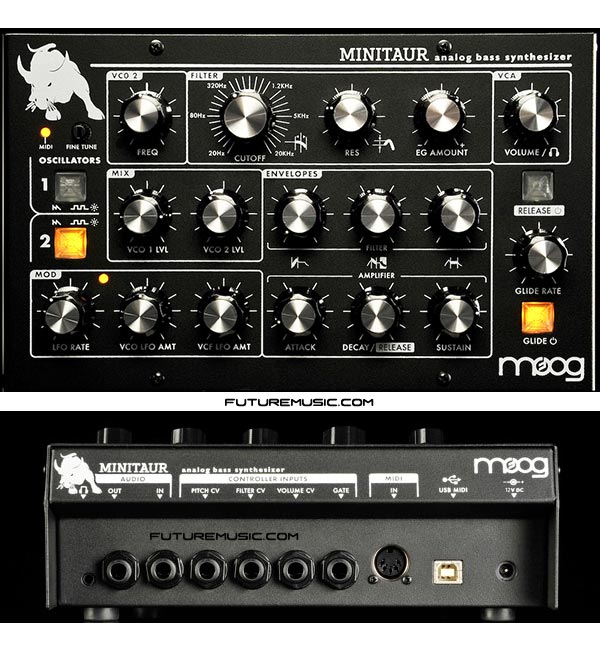 The YouTube demo below "tunes" the Minitaur for bass more in line with Dubstep, but it could provide some sick acid action if properly coerced. (We just asked Moog for a more 303-like demo. —Ed.)
The release of Minitaur introduces a new form factor, control interface and increased level of accessibility for the legendary brand. "The Minitaur has all the growl, snarl and body associated with the Taurus family of bass synthesizers. We're really excited to be able to offer this in such a compact package that is both immediately playable as an extremely versatile analog synth and also integrates seamlessly into the world of MIDI and USB control environments," says Cyril Lance, Chief Engineer of Moog Music.
Features:
» Compact rugged steel chassis
» One knob per function interface
» Two stable oscillators with Sawtooth and Square waveshapes
» Classic Taurus Style Moog ladder filter
» Two Minimoog-style Envelope generators for modulating VCF and VCA
» Midi-syncable LFO with Controls for Rate, VCO LFO Amount, and VCF LFO Amount
» DIN MIDI and MIDI over USB
» Analog Control inputs for pitch, filter, volume and gate
» External audio input
» Headphone output




Since the inception of Moog Music, Bob Moog tested his ideas, instruments and sounds on musicians as a key part of the product development process. In keeping with this tradition, Minitaur has been presented to a broad array of producers, artists and songwriters including Geddy Lee of Rush, techno legend Derrick May, Flying Lotus, Moby and renowned record producer Nick Raskulinecz as a part of the final product development process. The enthusiastic response from these artists marks the beginning of the next generation in the Taurus Bass Synthesizer line.
The Moog Minitaur costs $679 and will be available sometime this Spring.
Moog