Akai Announces Three New MPC Products
The NAMM Hype-Engine is off to a running start thanks to Akai's entirely revamped MPC Series.
Three new products, The MPC Renaissance, MPC Studio and a new MPC iPad App, dubbed The Fly (Great name! —Ed.) are set to make their public debut at the upcoming NAMM show in California.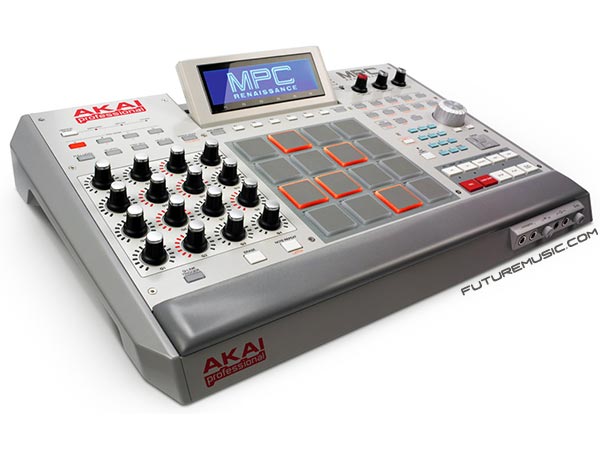 The Renaissance looks like a marriage between the old and the new with the distinctive MPC monochrome flip up screen, 4×4 grid of gray pads, and the iconic transport control, but with certain elements of the APC40 thrown in for controller-like tweakage, a nicely spaced out 4×4 grid of controller knobs. The styling looks right on point with an expansive layout, plenty of I/O and prominent, but not over-baked branding — Love the MPC logo on the back of the flip up screen!
"Fusing Akai Professional's legendary MPC layout and workflow with the power of your computer, MPC Renaissance is an unrivaled instrument for music production. The new flagship is a fully integrated hardware/software system: MPC Renaissance allows you to create using classic hardware controls and an integrated pop-up display, while it's exclusive MPC Software empowers you with unprecedented, expandable production capabilities on your Mac or PC."
The MPC comes with a software component, for both Mac & PC, that looks to allow you to work in three modes, stand alone software, hardware/software hybrid and stand alone hardware. This concept was what initially got many industry-watchers excited by the Beat Thang, when it was announced three years ago, but the company never seem to deliver on the promise. The one aspect that we thought was compelling was the Beat Thang's ability to work as a portable stand-alone unit on the go (via battery-power). Any beat you composed on the unit while waiting for the bus, standing in line at the bank or getting a colonoscopy, could then be transferred via the Beat Thang software component to your computer. The reverse was also true, any work done on the computer software could be transferred seamlessly to the hardware. We're hoping this is what Akai has in mind for both the Studio and Renaissance models via the new Fly MPC app.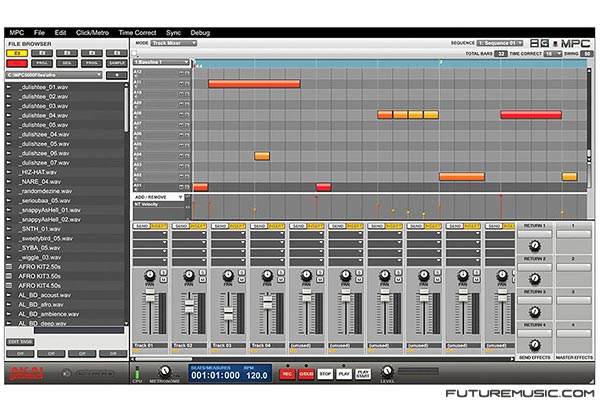 Renaissance Hardware Features Overview:
» Fuses legendary MPC production with the processing power of your computer
» 24bit/96kHz!!
» Vintage Mode changes output sound character to MPC3000, MPC60 and more
» 16 backlit genuine MPC pads, 16 Q-Link controls, and adjustable backlit LCD screen
» Classic MPC Note Repeat, MPC Swing and MPC transport controls
» MPC SOFTWARE for Mac or PC with 64-track sequencing capability
» Two XLR-1/4″ combo inputs and dedicated turntable input
» Four-channel US B 2.0 audio interface and two-port US B 2.0 hub built in
» Up to eight pad banks – more than any other MPC ever
» Two MIDI inputs and four MIDI outputs
» Stereo 1/4″ out, stereo assignable mix 1/4″ out & S/PDIF I/O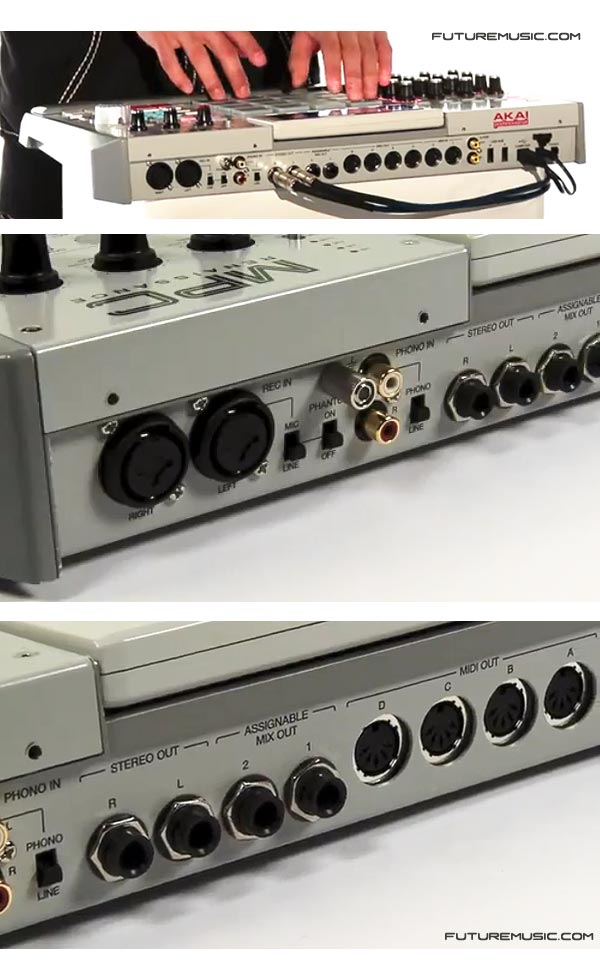 Renaissance Software Features Overview:
» 64-track sequencing capability
» Massive 6GB+ sound library, including all of the sounds of the classic MPC3000
» Instant mapping and real-time adjustment of VST plug-ins
» Record each track as an MPC drum program, Keygroup program or VST plug-in
» Runs standalone and as VST, AU or RTAS plug-in
» Supports WAV, MP3, AIFF, REX and SND
» Supports samples and sequences from any MPC ever made
» Mac and PC compatible
Akai produced a well-crafted hype video for your viewing pleasure:



Being that the Renaissance is being dubbed the "flagship" model, we certainly hope that Akai has addressed some of the quality issues that have somewhat dimmed the shine of their APC lineup. The caps on the APC's rotary knobs are prone to pop off and the plastic fader knobs tend to make "unscheduled dismounts" just when you need them the most. From the computer mock-up image and the demo video it appears that the knobs on the "APC side" of the MPC are exactly the same, albeit with a different colored cap, and this will be something to watch for when we get our grubby hands on the unit at the NAMM show. (As an original owner of the MPC3000, I can emphatically tell you that I miss the main navigational metal rotary knob and the higher-grade "feel" of the Roger Linn designed controls. I understand Akai is implementing cost-cutting measures to keep their products accessible, while still making a profit, but the designers have to realize that every single time a user interacts with a control on their unit, it's a branding experience. —Ed.)
Exactly how Akai prices the new MPC lineup is going to be fascinating. The prior incarnation of the MPC lineup was perceived as "spendy" by consumers, especially the MPC5000 that weighed in at close to $4000 when it debuted and then dropped to $3500. Granted it packed a lot of punch in its package, but comparing it to buying a computer with a MPC controller took away from its perceived value.
Akai