MOTU Premiers 4Pre Audio Interface
MOTU has subtly debuted the 4Pre, a new audio interface with four mic preamps housed in a half-rack, all-metal chassis. As the baby brother to MOTU's 8Pre, the 4Pre is meant to have all the flexibility of the 8, but in a smaller form-factor for the artist who doesn't require eight dedicated inputs.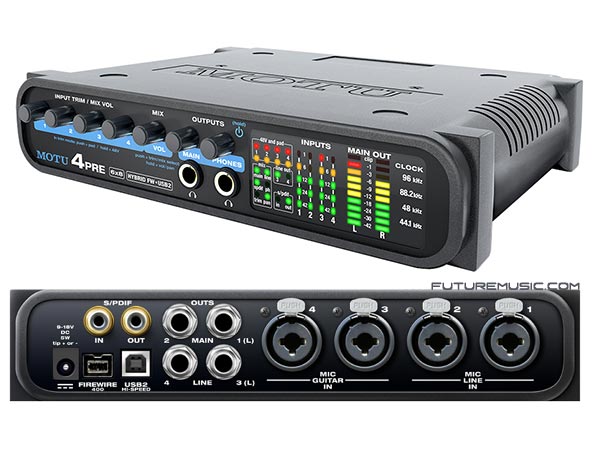 The four combo jack inputs accept both a quarter-inch plug, as well as XLR inserts. Inputs 1-2 take line-level signals, such as the output from a synth or keyboard. Inputs 3-4 are designated "hi-Z" DI with proper impedance for plugging in an electric guitar, without the necessity of an amp or cabinet.
The 4pre combo mic/guitar inputs are equipped with quality preamps and offer individually adjustable 48V phantom power and -20 dB pad. All settings can be adjusted directly on the front panel, or from the 4pre's CueMix software running on your computer. Mic inputs can be operated individually or in stereo pairs, as needed. The 4pre analog inputs are designed to be flexible, so that you can address a wide range of recording situations. The line inputs provide proper level matching for keyboards, analog mixers, effects processors, or other gear with either -10 dB or +4 dB reference level input.
The 4Pre provides two sets of outputs, connect a pair of powered studio monitors to the main outs, and then use the separate line outs for a variety of purposes, either mirroring the main outs (perhaps for a 2nd set of studio monitors) or acting as a completely independent output pair (for a separate mix going to a mixing board or stage wedges, for example). The 4Pre also contains two headphone outputs. The left-hand phone jack always mirrors the main outs, and the "Main" volume knob controls both. The right-hand phone jack has added flexibility: it can mirror the main outs, with independent volume control, or it can mirror any other 4pre output pair.
The 4pre's standard S/PDIF input and output make stereo digital transfers a snap, with optional external clocking and support for sample rates up to 96 kHz. The 4pre preamps deliver 60 dB of gain, and adjustments in approximately 1 dB increments using the front-panel trims or the on-screen CueMix software. The gain adjustment itself is smooth because it is analog, but the digital control gives you both precision and the ability to save and recall trim settings. So you get the best of both worlds: analog trim with digital precision and control. Trim is adjusted at the input, before the mixer, so it applies to all mixes. Mix levels are controlled separately from trim, so you never sacrifice sound quality for a balanced mix. The S/PDIF digital inputs can be trimmed, too.
The 4pre mixer takes signals from its six inputs and mixes them to an output pair, such as the main outs. You control the volume of each input. Better yet, you can adjust input volumes differently for each output pair. In other words, each output pair can have its own unique mix. For example, you might create a balanced mix going to your PA via the main outs, but bring up the guitar for the mix going to your stage monitors via the line outs, so you can easily monitor your guitar sound. You get a separate mix for main outs, line outs, S/PDIF digital out, and phones.
Specs:
» Converters: 24-bit
» Sample Rates: 44.1, 48, 88.2, 96kHz
» Analog In: 4 x XLR/TRS combo; 2 x 1/4″ TRS phone (balanced/unbalanced); 2 x 1/4″ hi-Z guitar
» Analog Outputs: 2 x 1/4″ balanced TRS main out; 2 x 1/4″ balanced TRS line out; 2 x 1/4″ TRS headphone
» Digital Input: 1 x RCA coaxial S/PDIF
» Digital Output: 1 x RCA coaxial S/PDIF
» Computer I/O: 1 x FireWire 400 (Type B); 1 x USB 2.0
» Sync In/Out: S/PDIF; SMPTE time code (LTC)
» Headphone Output: 2 x 1/4″ TRS phone with independent volume control
» Phantom Power: Individual +48V
» Front panel: 2 x 10-segment ladder LEDs • main outs; 4 x 5-segment LEDs • inputs; 2 x signal present LEDs • S/PDIF I/O; 2 x signal present LEDs • stereo line out;
» 4 x LEDs • 48V phantom power; 4 x LEDs • -20 dB pad; 5 x LEDs • mix/trim (main, line, S/PDIF, phone, trim); 1 x LED • Vol/Pan
» Power Requirements: 9-18V DC, 5W, tip + or – | FireWire bus power | DC power adapter included, required for stand-alone and USB 2.0 operation
The MOTU 4pre costs $495 and will be available in the near future.
MOTU