Twelve South Unveils PlugBug – Innovative iPad/iPhone Wall Charger
Twelve South has unveiled the PlugBug, an iPad/iPhone wall charger that piggybacks onto a MacBook Power Adapter, allowing you to charge a MacBook and an iPad/iPhone simultaneously from one power outlet.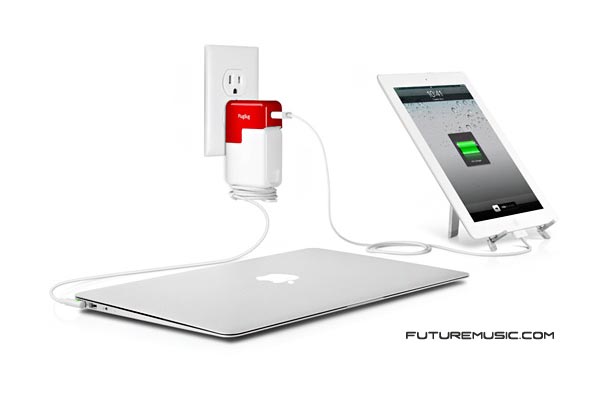 The ingenious PlugBug connects to all MacBook Power Adapters. Simply snap PlugBug onto a MacBook Power Adapter, in place of the adapter's AC plug, and you now have one handy device that charges MacBook and iPad or iPhone at the same time, using only one wall outlet. Along with a slick design, PlugBug packs 10 watts, charging iPad as fast as technically possible. In fact, many public USB charging stations, like those found in airports, lack the power to charge an iPad. Not only will PlugBug provide the proper charge, it claims to charge your iPad up to twice as fast as many competing chargers.
So why is PlugBug red? Noted author and original Mac Evangelist Guy Kawasaki gets credit for the color. When shown an early prototype, Kawasaki insisted PlugBug should carry a show-stopping hue viewable from across the room – or airport. The "Kawasaki Red" PlugBug was born.
Those outside the U.S. and Canada can use PlugBug as the perfect U.S. adapter and iPad/iPhone charger. Not only does PlugBug convert any non-U.S. MacBook Power Adapter into a North American-compatible adapter, it also serves as a bonus USB charger for iPad and iPhone.
Made to fit all MacBook Power Adapters, PlugBug is available now for $34.99.
Twelve South