Avid Announces Pro Tools|HDX Digital Audio Workstation & Pro Tools 10
Avid has announced Pro Tools|HDX digital audio workstation and Pro Tools 10 software at the AES show in New York, the quintessential forum for the premier. Both new entries are designed to provide the most capable, highest quality, scalable solutions to meet the evolving needs of the industry, and deliver better performance, faster workflows, and easier collaboration than ever for professional users. ProTools 10 was the obvious star of the show with packed demonstrations and plenty of onlookers.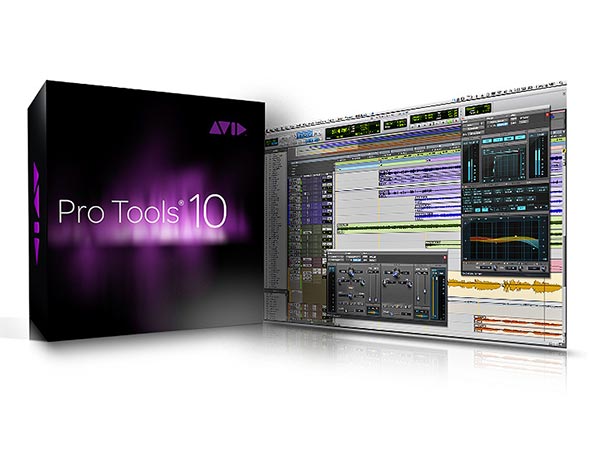 The Pro Tools|HDX system enables customers to mix bigger, more complex productions, and stable with Avid's latest development of DSP-accelerated hardware, delivering up to 5x more DSP per card, over a thousand dB of additional headroom, and up to 4x the track counts and 2x the I/O compared to its Pro Tools|HD Accel predecessor. And as customers' needs grow, the system can be scaled to increase track counts, power, and I/O, using up to three Pro Tools|HDX cards and multiple Pro Tools HD Series interfaces.
With this addition to the Pro Tools|HD family, there are now two powerful system choices. Customers can choose the Pro Tools|HD Native system if they need the advanced workflows and sound quality of Pro Tools HD, and want to leverage their host computer to get the best performance and lowest latency. Or customers can choose the new flagship DSP-accelerated Pro Tools|HDX system if they require consistent peak performance and near-zero latency to handle extremely large and complex productions. Together, the Pro Tools|HD product family provides the highest performance, lowest latency, and greatest sound quality available for the most demanding audio post and music production professionals.




Features:
» Get up to 5x the processing power of previous generation cards
» Manage larger productions with fewer cards, with up to 4x the playable track counts
» Work with up to 64 channels of I/O per card, enabling larger configurations with fewer cards
» Dramatically improve recording and mixing audio quality with over 1,000 dB additional headroom and higher resolution sound, thanks to the new floating-point architecture
» Capture, monitor, and output audio in pristine clarity with a choice of Pro Tools HD Series interfaces
» New AAX plug-in format—built
» Record and play back up to 256 audio tracks per card (or play back up to 768 tracks with three cards) to support the most massive mixes
» Get great recording and playback responsiveness with the extended disk cache, which can load entire sessions into RAM, and ensures maximum track counts from networked-attached storage, such as Avid Unity ISIS, and slower local drives
» Control up to 12 Pro Tools|HD systems from one using the Satellite Link option
» Mix audio from up to two Pro Tools|HD systems with a D-Command® control surface through Multi-mode
» Pro Tools 10 included
New Pro Tools 10 software adds major new features to the world's leading digital audio workstation, delivering on top requests from both audio post and music professionals. With it, Avid introduces several new tools and timesaving workflows, such as the top-requested Clip Gain, which separates pre-mix levels from Pro Tools software's renowned mixing automation, greatly speeding up and improving the workflow between sound editors and mixers. Customers will also be able to achieve higher sound quality and better performance than ever, whether they're recording, composing, editing, mixing, or playing back their sessions. Pro Tools HD 10 introduces the new AAX (Avid Audio eXtension) plug-in format, enabling better workflows and sound parity when sharing sessions between DSP-accelerated and native-based Pro Tools systems. With two formats available, AAX DSP and AAX Native, AAX opens the door to future advancements in Pro Tools technology.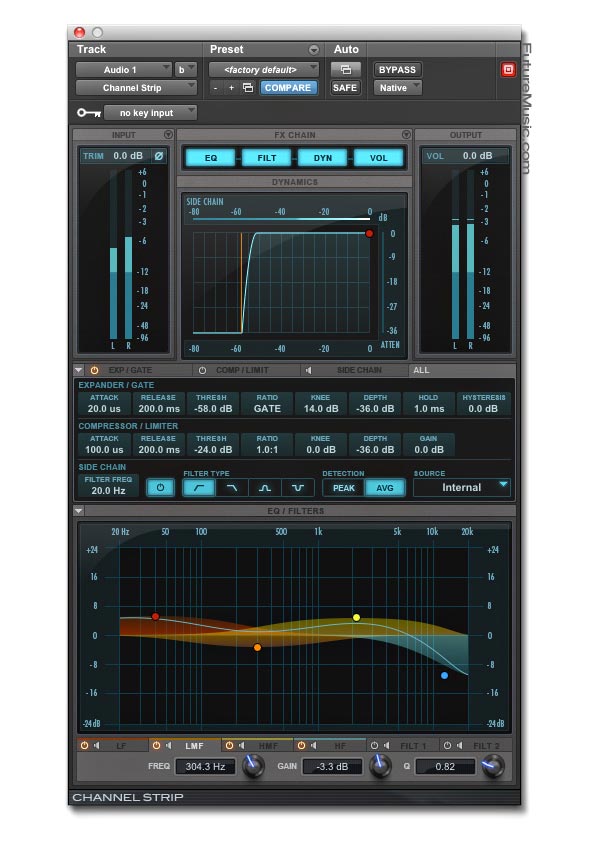 With Pro Tools 10, you can mix multiple audio file formats and bit depths within the same session—including interleaved—without any file duplication to cause project bloat. Plus, with support for 32-bit floating-point file formats, you'll get higher resolution sound when recording or importing, with more headroom to preserve the integrity of your audio from beginning to end.
Gain better recording and playback performance when working on a laptop with an external drive or a network-attached storage device. Speed up editing and mixing with Clip Gain (watch the video). Work more easily with AudioSuite-rendered clips (watch the video). Get 4x more* Automatic Delay Compensation and 2x more busses to handle bigger mixes with more plug-ins. And get snappier performance when working on sessions with lots of fades.
With the included Avid Channel Strip plug-in, you get the renowned channel strip of the Avid (formerly Euphonix) System 5, one of the most sought-after consoles used to create some of the greatest mixes ever produced. Work with exact replications of the console's EQ and compression algorithms to add life to your mix. Whether you're tracking vocals, guitars, or an orchestra, you'll get the best possible sound and optimized performance when you pair Pro Tools with an Avid audio interface. Record high-resolution audio—up to 24-bit/192 kHz—and experience exceptionally low latency to capture your best performances easily.
With Pro Tools, you have the flexibility to record, edit, and mix music and sound for picture your way. Pair the software with your favorite Avid or third-party audio interface to record and monitor vocal and instrument performances. Or record and create with just your computer** and the software alone for ultimate portability. Nobody's perfect, but with Pro Tools you can create a seamless performance from multiple takes. Let your spontaneity shine with Loop recording and comp together your best takes. Or use QuickPunch to quickly replace any questionable section with a better performance. Easily create parts for practically any musical instrument using great-sounding virtual instruments, a MIDI keyboard/controller or your mouse, and the built-in Pro Tools MIDI Editor. Get started fast with the included virtual instruments and audio loops, and expand your arsenal with virtual instruments from Avid and third-party audio designers.
Take your songwriting from sketchpad to final production. Create and edit virtual instrument and MIDI performances with the MIDI Editor. Or compose music using notation tools in the built-in Sibelius Score Editor. You can even export sessions as Sibelius (.sib) files for further finessing in Sibelius. Collaboration has never been easier. With Pro Tools, you can exchange sessions with any Pro Tools user or studio. Or work on projects created in other audio and video software—including Media Composer, Logic, Cubase, and other third-party apps—right in Pro Tools.
Freely experiment without the time or effort investment. With Elastic Time, you can change the tempo or timing of any clip or an entire composition—on the fly. And with Elastic Pitch, you can fix wrong notes, create harmonies, and transpose clips—in real time—without altering the tempo. Shape and fine-tune your music and audio with professional, sample-accurate editing tools. Create a flawless performance by comping together tracks.Speed up editing with the Smart Tool. And smooth transitions with crossfades. Everything you need to perfect your tracks is available right from within a single Edit window. With the versatile Beat Detective tool, you can quickly fix timing issues across multiple tracks or change up the feel of a beat to get a different groove. You can even use it to keep your rhythm section "in the pocket" by extracting the groove from a drumbeat and applying it to the bass part. With Pro Tools, you can create, edit, and mix audio to picture using the built-in Timecode Ruler and video track. Use the included plug-ins to clean up sound. Create sound effects that define (or defy) reality. And record and edit voiceovers, Foley, and ADR with perfect frame accuracy. You can even share audio mixes with Media Composer editors through AAF.
Polish mixes with over 70 included effects, sound-processing, and utility plug-ins. From high-quality reverbs, EQs, and compressors, to guitar amp emulators, surround sound fold-down, and channel strip dynamics, you have everything you need to create professional mixes. Want more? Browse the in-app Avid Marketplace to find what you need. Get great sounding, phase-accurate mixes with Automatic Delay Compensation—now with 4x the samples (16,383) to handle bigger mixes—no matter how many plug-ins you use. Plus, you can automate the settings of every element in the Pro Tools environment to add life to tracks and achieve the best mix possible.
Top 10 Reasons to Upgrade to Pro Tools 10:
1) AAX Plug-in Format – 64-bit-ready plug-in format lets you choose native or DSP processing
2) Clip Gain – A whole new level of dynamic volume control
3) Upgraded AudioSuite Processing – Powerful new ways to process audio clips
4) New Plug-ins – Introducing Avid's System 5 Channel Strip, Down Mixer, and Mod Delay III plug-ins
5) Advanced EUCON Integration – Control over 500 new functions via your EUCON-equipped control surface
6) Real-time Fades – Fades are now processed in real time, eliminating the need for fade files
7) All-new Disc Scheduler – Works with slower hard drives and supports network-access storage systems
8) 32-bit Floating-point Audio Format – Preserve bit depth and eliminate unnecessary dithering
9) Flexible Session Structure – Export tracks as new sessions, bounce to iTunes, upload to SoundCloud, and more
10) Versatile Visual Indicators – Keep track of mutes and solos, and even trace signal flow
Pro Tools|HDX
Complete Pro Tools|HDX systems, which include the Pro Tools|HDX PCIe card, Pro Tools HD 10 software, and a choice of Pro Tools HD Series interface, will be available worldwide on Nov 18, 2011. Pricing:
New Pro Tools|HDX systems start at $9,999.
Pro Tools|HD 1 owners can crossgrade to Pro Tools|HDX starting at $7,999.
Pro Tools|HD 2 owners can crossgrade to Pro Tools|HDX starting at $6,999.
Pro Tools|HD 3 owners can crossgrade to Pro Tools|HDX starting at $5,999.
Pro Tools|HD Native owners can crossgrade to Pro Tools|HDX for $7,499.
Pro Tools 10 software (please note that Pro Tools HD 10 software is bundled with Pro Tools|HD family systems only, and is not available for separate purchase except as an upgrade):
Pro Tools 10 software (full version) retails for $699.
Pro Tools 9 owners can upgrade to Pro Tools 10 for $299.
Pro Tools HD software owners can upgrade to Pro Tools HD 10 starting at $999.
Avid