Avid Bundles Pro Tools + Eleven Rack
Avid has released of Pro Tools + Eleven Rack, a new bundle for guitarists that includes professional recording software, a DSP-accelerated audio interface that offers realistic emulations of classic amps and effects, and the Eleven Rack Expansion Pack. The new bundle aims to deliver a powerful live performance and recording solution for guitarists.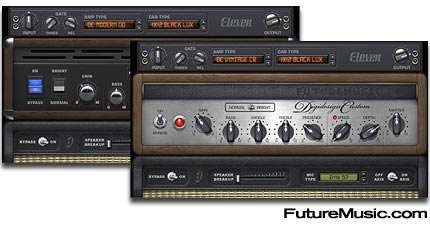 Experience quality emulations of classic amp tones inspired by Fender, VOX, Marshall, Soldano, Mesa/Boogie, Bogner, Ampeg and Matchless, among others ("Inspired" is legal-speak for: we didn't want to pay licensing fees… —Ed.). And fortify your tones and embellish tracks with a broad assortment of classic stompbox effects inspired by MXR, Electro-Harmonix, Ibanez, Pro Co, Univox, and others. When you've dialed in the sound you want, simply compose, record, edit, reamp and mix using the industry-standard Pro Tools software.
Pro Tools + Eleven Rack is available now for $1,259.
Avid