Gibson Unleashes The Firebird X Digital Guitar
Gibson has premiered The Firebird X digital guitar, a new release that claims to take the instrument to new heights of functionality and usability for the professional player and the aspiring enthusiast. Using technologies that did not exist even a few years ago, Gibson has enhanced an already cutting-edge instrument to new performance and creative heights. The enhancements touch every aspect of the instrument, from using improved manufacturing technologies to the latest electronics.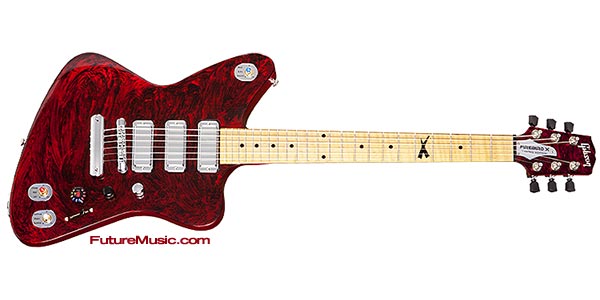 The Firebird X features a lightweight body made from hand-sorted swamp ash, with a rock maple neck and curly maple fingerboard. This construction claims to allow the guitar to achieve exceptional sustain and tonal range. Firebird X is capable of very resonant and acoustic-like voicing. The guitar is a bit more than six pounds in total weight. Special resonant chambers not only decrease total weight, but also allow acoustic-like tones and increased overall sustain. The guitar is louder than a typical solid body with substantial tone from lowest bass note to highest treble note. To get more depth, we use a heavy bottom gauge of string with E being about "10" and low E about a "52" with a custom gauge insuring even, crisp tones for all six strings.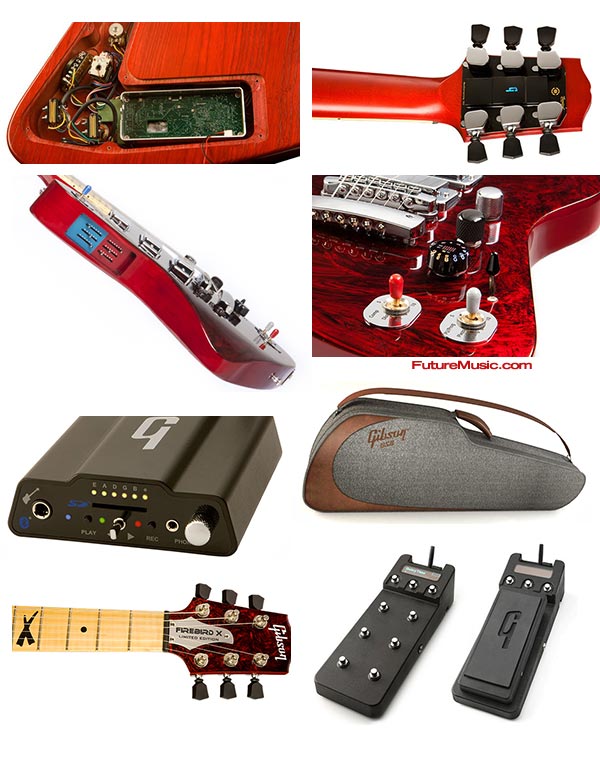 Features:
» Audio Quality: Integrating the effects signal path within the guitar allows for perfect impedance and level matching to the pickups, resulting in far lower noise than outboard effects – the dynamic range exceeds 100dB. Even with high-gain distortion and compression, Firebird X is astonishingly quiet.
» Pickup Design: Either coil in each of the three mini-humbuckers can be off, on or reverse polarity, and can be switched into single coil modes as well series and parallel.
» GoldTone Switching Technology: Thanks to carefully-selected pickup coil switching choices, Firebird X emulates iconic guitar tones with analog technology — not digital modeling. Over 2,000 pickup combinations are possible, each with its own unique sound.
» Pure Analog Updateable Audio Engine: Based on the Freescale multi-processor (the latest generation of the chip family used in Pro Tools TDM systems), the audio engine has the power and resolution needed to create sounds with a true analog feel. The engine hardware is not only updateable, but user-replaceable to accommodate advances in hardware technology.
» Patch Morphing: Two tog-pots — which look like standard pickup selectors, but have a control built into the rotatable toggle shaft — let you morph smoothly from unprocessed to processed sounds, and anywhere in between.
» Acoustic Guitar Sounds: A third tog-pot blends acoustic sounds from the piezo pickup along with the electric pickups, or even acoustic sounds only. Optimized to create sounds like Gibson's acclaimed J-45 acoustic guitar and others, the basic acoustic guitar sound is virtually indistinguishable from an acoustic guitar's electric output.
» Hex Output Structure: The bridge piezo pickup includes hex outputs (each string can provide a separate output for computer or live performance setups), which allows for totally new guitar sounds — from clean distortion and synth-like timbres to groundbreaking surround possibilities. Firebird X's new hex pickup design means higher output and greater string separation than ever.
» Open Architecture: 3rd-party developers can develop new and exciting applications (sold through Gibson's app store) for the Pure Analog audio engine. And users can create and share their own patches, as well as download additional patches from Gibson's Firebird X microsite.
» Battery Life: Thanks to advances in low-power circuitry, greater Robo-Tuner efficiency, and powersaving techniques derived from laptop computers, the internal battery lasts for well over two hours of heavy, continuous use — and should the power run out, the battery can be swapped out in under 10 seconds with commonly available, inexpensive camcorder batteries.
» Blue Lightning Compatible Footpedals and Footswitch Unit: Tired of clutter and cables on stage? So are we. Firebird X communicates with the two (included) pedals and footswitch unit using Bluetooth technology optimized for musical applications.
» Effects Software: Although the heart of the distortion options within Firebird X use McDSP's critically-acclaimed Chrome Tone plug-in, Gibson's engineers have included multiple modulation, delay, and reverberation effects — including new effects like dynamic delay, and old favorites like spring reverb, analog chorus/delay, and a 10-second looper.
» Pedal Interconnections: Forget cables, the pedals and footswitch snap together for a secure mechanical and electrical connection, as well as the ability to create large pedalboard setups. And daisy-chaining the control signal saves power and optimizes wireless performance.
» Computer Interface: The included cross-platform 48k 24bit G-node interface not only provides pro audio-level interfacing for cutting-edge software but connects the guitar digitally for firmware updates.
Low-Impedance Active Output: While the idea of using a low-impedance output to preserve tone, drive long cables, and even feed a PA or mixer directly isn't new (thank you, Les Paul), Firebird X's implementation is new — this is the most transparent-sounding audio you've ever heard from a guitar output.
» Direct Digital Output: A true ADAT optical direct digital output from Firebird X is available for direct digital interfacing to ADAT optical compatible gear, Hex mode, piezos and magnetics can be transmitted digitally over the light pipe.
» Digital Varitone Tone Control: Turn the tone control fully counterclockwise and you'll hear the traditional high-end rolloff; turn it clockwise for the full guitar tone. But in between those two settings are six additional tone options that add subtle, musical variations.
» Real-Time Control: Do you like bending over and reaching down to a pedalboard to change a setting? We don't either. So, Firebird X includes six color-coded sliders that let you morph settings, and even switch into different effects entirely, with a flick of the finger.
» Live Performance Modes: When you just want to call up one of the 55 onboard patches and wail, choose Preset mode — this locks out all onboard controls so you can't change the sound accidentally. To switch into live mode and alter your sounds in real-time, just push on the tone pot twice.
» Robo-Tuners: The first generation of Robot Tuning technology created its own revolution, making alternate tunings practical at last, as well as tuning multiple strings simultaneously. The fourth-generation Robo-Tuners — smaller, lighter, more durable and faster — revolutionize Robot Tuning again.
» Case Technology: To protect this finely-crafted instrument, Gibson has developed a unique case that can survive a fall from a six-story building. If you ever have to check Firebird X as baggage with the airlines, rest easy.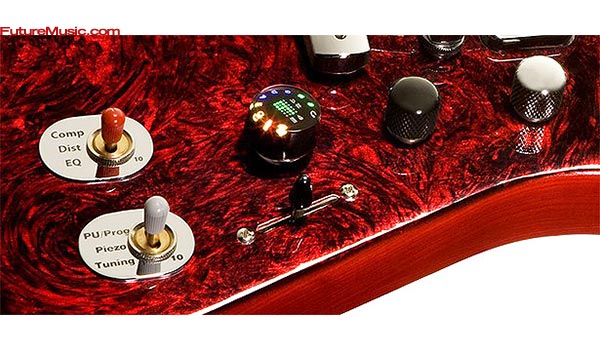 The look builds on the Firebird's and Gibson's history. The wood grain is accentuated, so it "pops" with staining technique. The fingerboard is curly maple. The neck inlays are ebony tilted parallelograms. The headstock has a classic Gibson dove wing shape, and a Firebird-style truss rod cover. The guitar has a very classic fine furniture look with marquetry, elegant curves and smooth rounds. It is very appealing to a guitar player and non-guitar player alike. The neck has a thin "C" shaped profile with a smooth, non-stick satin finish. A volute at the nut allows the hand to quickly find the first position and improves total sustain and strength. The neck joint is smoothly blended from neck to body with just a slight roundness, allowing maximum access to high register strings. The lower cut away cuts deeper, affording exceptional access to the high register. The fingerboard has low-profile frets and a highly polished curly maple surface. This allows fretting to have almost no impact on pitch (higher frets cause a slight pitch change when the finger depresses the string). Finally, the fretboard is extended to 23 frets, allowing the player to achieve a full, two-octave range with a bend. The maple neck is hand-sorted and is exceptionally stable, allowing previously unachievable tolerances on our factory set up and maintaining this great set up over time.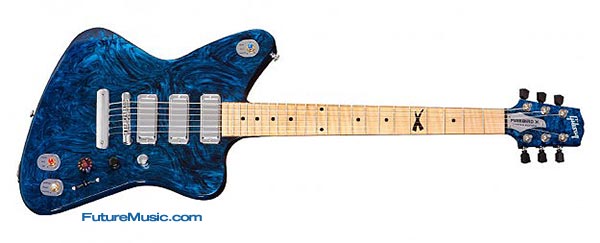 The Firebird X product uses three mini-humbuckers and a vastly improved hexaphonic piezo bridge pickup with an improved low noise, high dynamic-range preamplifier, making this a fully active guitar. The pickups are based on traditional Firebird designs, but have been significantly improved to provide more tonal range and to match the studio-grade preamplifier section. The result is that the signal dynamic analog dynamic range exceeds the specification of the high-end electronics. Each coil of the electro-magnetic pickup is individually controlled in series or parallel, allowing each coil to be on, off, or on-reverse polarity. The guitar's presets use the best combinations to recreate the world's best tones and some great new tones. New combinations can be made using the Firebird X editor, giving you an unlimited sonic palette. The piezo pickup has a new, sweet acoustic-like tone, allowing the guitar to replicate a true acoustic instrument.




This guitar continues on a tradition of having electronic tuners, and a fourth generation of supporting hardware and software. What this means is that the guitar can change tunings even more quickly and accurately, with an even simpler way to get to multiple tunings. The tuners can be used manually and have been enhanced to be more robust with a better feel when used manually.
The Gibson Firebird X Digital Guitar costs $5570 and has just been released.
Gibson