Mixed In Key 5 Detects Key Changes Within Songs
Mixed In Key has upgraded their harmonic-mixing software to version 5. For those of you living under a rock, Mixed In Key 5 identifies the keys and tempos of digital music files, making it easy for DJs to mix harmonically in key for truly seamless transitions. Version 5 offers new features and functions, as well as a new key-detection algorithm.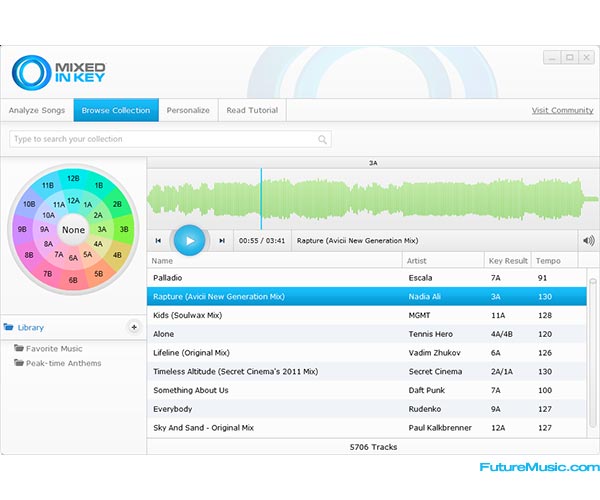 Mixed In Key 5 provides multi-processor support for both Mac and Windows machines, allowing the software to take full advantage of the speeds possible on multicore CPUs. Another highlight is the new Audio Player, which lets users audition the key-detected songs and samples from within the software. In addition to existing support for MP3 and WAV file formats, Mixed In Key 5 adds M4A and MP4 (video file) support.
The new key-detection algorithm claims to produce enhanced levels of detection accuracy, and can now uncover key changes within songs. Key changes are clearly shown in the waveform display of the Audio Player, allowing users to view where in the song the change occurs. Whereas the key detection in previous versions looked at a song-file as a single entity, the new algorithm analyzes it as a series of beat-aligned segments. This ability to analyze short audio files means that remixers and producers can use Mixed In Key when working with sample and loop libraries, making it easier to find files in the same key.
As with previous versions, Mixed In Key 5 uses the Camelot Wheel system, which displays key names on a circular chart that is numbered and color-coded. This approach makes harmonic mixing easier by graphically showing which songs are compatible with each other. In version 5, a clickable Camelot Wheel offers an elegant new way to see key-detected material. Once the software has analyzed a collection of songs, clicking on a key name on the Camelot Wheel instantly brings up a list of all the files in that key, making song selection efficient.
Mixed In Key 5 for Windows and Mac OS X is available from Mixed In Key for $58. Upgrades from previous versions will lighten your wallet $29.99.
Mixed In Key