Allen & Heath Unleash Xone:DB2 DJ Mixer, Audio Interface & MIDI Controller
Allen & Heath has unleashed the Xone:DB2, a new mixer featuring twin DSP FX Engines. Xone:DB2 has more than 50 FX presets divided into 5 FX types: Delays/loopers, Reverbs, Resonance, Modulation and Damage and more will debut in future firmware updates.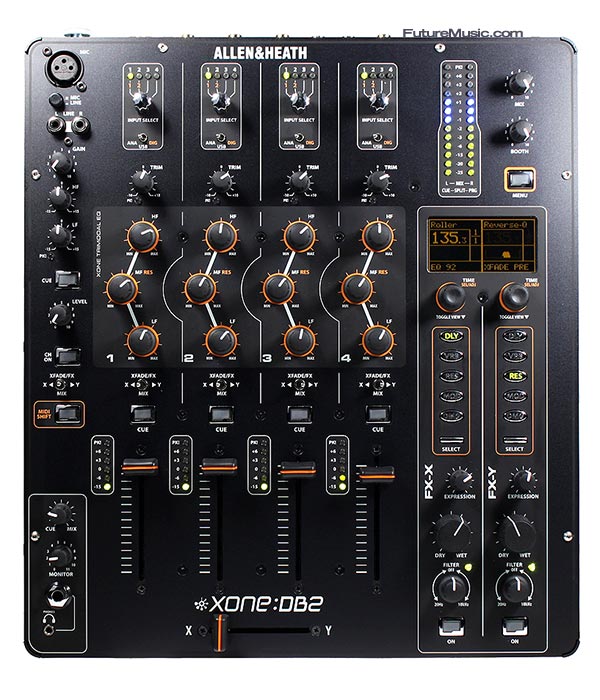 Features:
» Expression + Wet / Dry — The Expression and Wet / Dry controls give intuitive, hands-on control for everything from subtle FX washes to total transformation.
» Editable FX Parameters — For those who want to drill down further, individual FX variations can be further modified via the rotary controls under the screen.
» Input Matrix — Each of DB2's four input channels has a full input matrix that can select from four analogue (Line or RIAA), four USB, or two digital sources, allowing for a wide variety of audio sources to be connected simultaneously. The same source can also be selected on multiple channels.
» Trimodal EQ — Xone:DB2 adopts the fresh approach to creative equalisation introduced on DB4. The EQs can be used in three different modes – standard asymmetric EQ (+6/-25dB), total Kill (+6dB/OFF with a 24dB/octave slope), or High-Pass/Low-Pass filter with adjustable resonance.
» Mic/Line Input — With 2 band EQ, gain, cue and mix level and with full access to FX.
» High Visibility OLED Display — Tested for maximum clarity whether playing on a sundrenched Balearic beach or in a Berlin basement, the high contrast display shows FX selection, BPM and menu setup functions.
» Lightweight chassis — Made for life on the road, Xone:DB2 is robust enough for touring, but it housed in a lightweight aluminium chassis
» Integral soundcard — The built-in, multi-channel USB2 soundcard allows replay and recording from computer-based audio software for 4 stereo sends and 4 stereo returns.
» MIDI control — All controls (except Mic and Phones level) send MIDI data. The mixer can double up as a MIDI controller for DJ software such as Traktor Pro and Ableton via the MIDI shift button, which allows the FX selection controls to send MIDI data without changing the mixer settings.
» X:LINK — Xone:DB2 can integrate smoothly with the new Xone:K2 software controller via Allen & Heath's proprietary X:LINK protocol.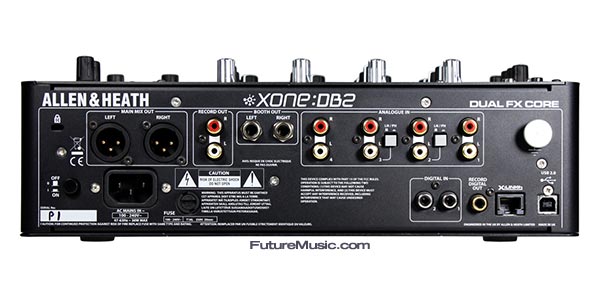 The Allen & Heath Xone:DB2 will debut just before the holidaze for £999.
Allen & Heath