Sound Magic Upgrades Supreme Piano To Version 2
Sound Magic has upgraded Supreme Piano to version 2.0. The heart of the Supreme Piano 2 System are the piano modules. Supreme Piano 2 will let you choose up to 4 piano modules from their database. There are currently 5 piano modules available that claim to recreate the unsurpassed authenticity and complexity that has long been a standard in concert halls around the world.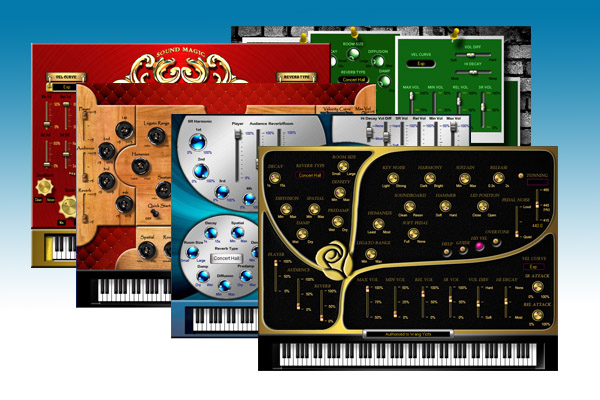 From the famous dark, rich Bosendorfer tone to that fantastic and sexy Fazioli sound, Supreme Piano 2 gives you many pianos in one. A revolutionary new feature is that Supreme Piano 2 enables you to hybrid the sound of different piano modules. You can create your own unique piano sound, adding great playability and unlimited sound creation to Supreme Piano 2.
Another facet in the upgrade is its powerful Add-on System. Add-on is like a Swiss army knife that will allow Supreme Piano 2 to fit into different situations and solve different problems. Each Add-on only focuses on solving one specific problem with the aim of a thorough – but lightning quick – solution. Every musician has his/her own needs, their own challenges and Add-on System is the ideal tool, providing answers with great precision and flexibility. (What "problems" are pianists actually encountering these days with their sounds? —Ed.)
So Many Problems, So Little Solutions
Today's musicians face many problems when creating music. From hardware to software, from composing to mastering, there are many intricate steps for each musician to master — and that can be a major challenge. Supreme Piano 2's Add-on System is designed to solve problems at each of these different steps. For example, our Instrumental Add-ons are designed to create sounds that can answer specific needs. Perhaps you need a hybrid sound with an electric piano — our Grand Epiano Add-on may be your answer. Another module, Pre Add-ons, can help musicians by working with signals before they get to Supreme Piano 2, perhaps modifying MIDI signals to get the exact results needed. The Add-on System can even use artificial intelligence to suggest solutions to problems. It might recommend a tool such as the A.I. Post Effect Add-ons which features incredible applications such as PianoQ, PianoComp, Headphone Mix, AIR, and BlueTube Compressor. You never need to leave Supreme Piano 2's environment to solve all of these problems and more! (We just didn't realize how hard today's musician have it with their piano sounds! With this many issues, it's no wonder every one of my virtual pianos is clamoring for therapy! —Ed.)
If you got piano emulation problems, apparently Sound Magic has your answer…for a mere €299.
Sound Magic