Sony Unveils Upscale RDP-X500iP iPod Dock
Although, very late to the iPod dock party, Sony has announced two new speaker docks, a premium, iPad compatible model with built-in subwoofer (RDP-X500iP) and a successor to Sony's most popular speaker dock (ICF-CS15iP).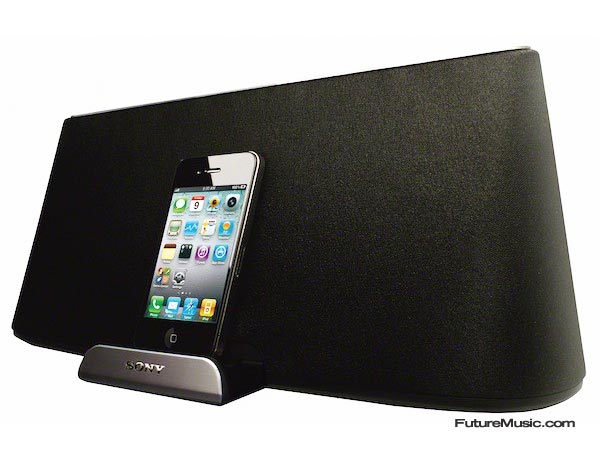 Made for most iPod, iPhone and iPad, the RDP-X500iP speaker dock features a modern design while delivering innovative sound technologies. Its built-in subwoofer, Clear Phase DSP and groundbreaking magnetic fluid speakers work in concert to provide a quality audio experience. An auxiliary audio input facilitates connection to other sources for easy access to music, wherever it is stored. For a convenient listening experience, a full function remote control is also included.
The RDP-X500iP includes Sony's DMC technology, a combination of Dual Passive Radiators, Magnetic Fluid Speakers and Clear Phase DSP sound processing. In conjunction with its built-in subwoofer, dual passive radiators provide solid bass response in a compact form factor. Rather than using conventional drivers, speakers with damperless magnetic fluid technology are employed, claiming to deliver higher sound pressure levels, clearer vocals, and less distortion. In addition, Sony's unique Clear Phase linear phase correction circuitry further reduces distortion and increases sound presence, making music sound crisp and clear.
Sony's most popular speaker dock is now even better with the introduction of the ICF-CS15iP. Not only does it support charging and playback of the iPod and iPhone, it also delivers quality stereo sound via its MEGA BASS and Mega Xpand sound modes. The MEGA BASS mode provides an option to enhance bass response, while the Mega Xpand mode expands the music sound field for a full, rich audio experience.
Dual alarm functionality allows users to set two independent wake-up alarms, while the 2-5-7 day alarm feature supports different settings for weekdays and weekends, all with the option of waking up to an iPod, iPhone, AM/FM radio, or buzzer. The new flexible dock connector is designed to accommodate docking and charging an iPod or iPhone without removing it from its case. A full function remote control gives users access to music on an iPod or iPhone from across the room.
Sony's RDP-X500iP costs $300 and the ICF-CS15iP will set you back $100, both will be available sometime during October 2011.
Sony