Hamburg-Audio Releases Nuklear – Advanced Pulsar Synthesis Virtual Synth Plug-in
Hamburg-Audio has announced Nuklear, a new virtual synth plug-in for Mac and PC based on advanced-pulsar-synthesis.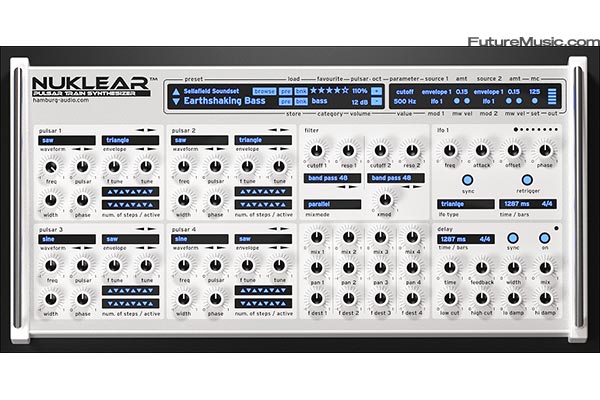 Nuklear comes with unique pulsar oscillators and enriches classic sound synthesis with essential new parameters: by disassociating the note pitch from the waveform length it is possible to create new, previously unheard sounds.
As opposed to classic sound synthesis not the waveform length, but solely its repetition rate is responsible for the resulting pitch.
The length of the individual "pulsaret grains" is controlled and modulated by a separate parameter, the "pulsaret frequency."
Features:
» advanced-pulsar-synthesis
» 4 pulsar train oscillators
» 16 voices
» 8 envelopes, 8 lfos
» 16 step monophonic note sequencer formats• 8 control sequencer
» 3 types of Distortion
» bpm stereo delay
» intuitive user interface
» high quality, fast growing preset database
» mac, pc, vst2, vst3 and audio unit
Nuklear is available in the Audio Unit, VST2 and VST3 flavors for Windows (32bit & 64bit) and Mac (Intel) for €169.
Hamburg-Audio