Fostex Unleashes AR-4i – Portable Stereo Microphone Rig For iPhone 4
Fostex has unleashed the AR-4i a new stereo condenser microphone rig for the iPhone 4. If there's one thing that comes up wanting on the iPhone's HD video's its the poor sound. Not that we can complain, it's a phone for chrissakes, but Fostex has seen a need and addressed it bigtime with the AR-4i. Offering quality stereo audio recording via a savvy Dock-like connector and built-in AD/DA converter that features LED input level metering, gain control and headphone monitoring, the AR-4i has been designed to dramatically increase the quality of the sound of the iPhone's videos.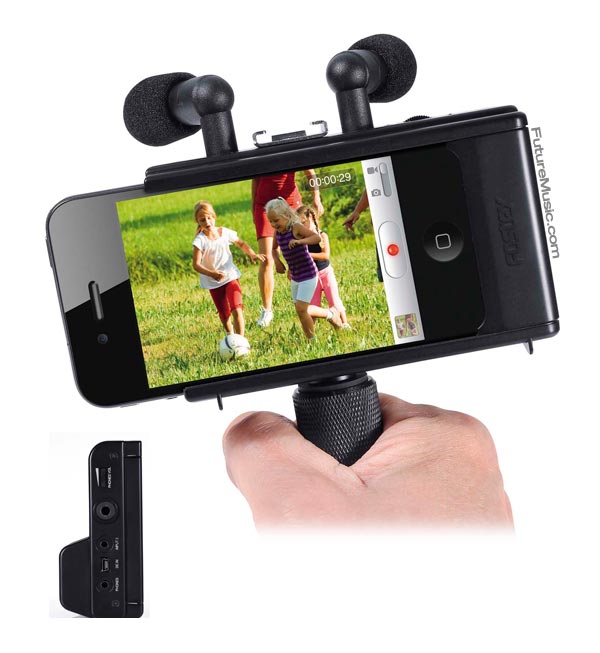 Features:
» Solid audio quality
» Record/playback via Dock connector with built-in AD/DA converter
» Equipped with 3 x stereo inputs (Line/Mic)
» 2 x plug-in powered condenser cardioid type mics
» 4-dot LED level meter for input monitoring
» Thumb wheel input gain control
» Free App available at the Apple App Store
» Powered by 2 AAA batteries with a claimed life of 8-10 hours




This hype video from Fostex features a very cute Japanese "U-Streamer" going through the AR-4i's main attributes…



The dedicated, easy to use iPhone App (available soon for free at the App Store) allows for easy control of input level, microphone setting, Equalisation, Filters etc. We especially like how Fostex addressed the vertical/horizontal framing by allowing the microphones to plug into different inputs on the device. The horizontal approach seems the most viable and the contains a natural "hand-hold" or you can use the aluminum handle.
Fostex AR-4i will reportedly cost about $150. Availability is unknown at this time, but we'd guess it will debut this fall.
Fostex