Tonehammer To Cease Operations
Tonehammer has announced that they are ceasing operations as Tonehammer and will reopen as two different companies. Tonehammer will cease to exist on August 1st 2011. All Tonehammer sample libraries however will be carried forward by two new separate companies: Soundiron (by Mike Peaslee) and 8Dio (by Troels Folmann).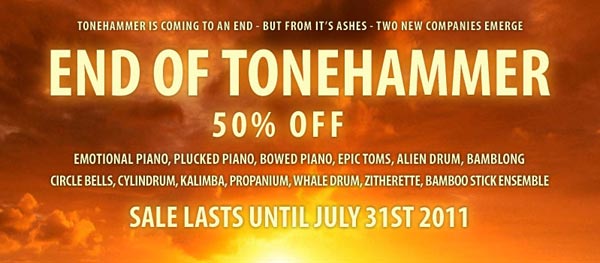 The two companies will officially re-launch all Tonehammer products on August 1st 2011 and will continue to provide full and ongoing support for all libraries. Tonehammer has produced over 80 libraries in less than three years. The company has decided to go out with a serious bang and offer some of our most popular products for 50% off. This is your final chance to purchase the entire Tonehammer family of libraries all in one place and take advantage of this going out of business deal. The following products can be purchased at 50% off from July 15th until July 31st 2011, exclusively at Tonehammer:
» Emotional Piano
» Plucked Piano
» Bowed Piano
» Epic Tom Ensemble
» Alien Drum
» Bamblong
» Circlebells
» Cylindrum
» Kalimba
» Propanium
» Whale Drum
» Zitherette
» Bamboo Stick Ensemble
In addition, all customers who purchase any item at tonehammer.com from July 15th until July 31st, 2011 will also get a free copy of their final library called: Cathedral of Junk. It's a symphony of tuned scrap and found sounds captured at (and including) one of the most unique pieces of living art/architecture we've ever seen. It's 440 MB and contains 20 unique instrument sets, plus a large bonus collection of evolving ambient drone instruments. Simply order any item in our store and we'll send you a free discount code for the library expires 7/31/11.
Tonehammer