Propellerheads Finally Turns Reason Into A DAW
Propellerhead Software has announced Reason 6, a major update to the well-reviewed music software, which finally integrates all of Record's audio recording functionality into one product. The Swedish concern also released a "light" version, dubbed Reason Essentials. In order not to completely lose face by not incorporating audio recording into Reason in the first place and creating a stand-alone product, (see our Reason 5 review for details. —Ed.), Propellerheads is calling Essentials "the successor to Record," that packs all the recording, editing, effects, instruments, mixing and mastering necessary to sound great in a streamlined package and providing all Reason products with audio recording and editing.
Combining all the features from Record into the new version, Reason 6 adds audio recording and editing, along with Propellerhead's excellent mixing console, multiple parallel racks, Line 6 amp models, new effect devices plus additional features.
New creative effects designed for inserting directly into instruments and tracks include: Pulveriser, sound crushing effect with crunchy compression, dirty distortion and flexible modulation; The Echo, advanced stereo echo with modern delay and analog tape echo emulation: and Alligator, a three band pattern gate for complex rhythmic texturing. Interface enhancements, high definition audio transpose and true 64-bit compatibility highlight other new feature improvements.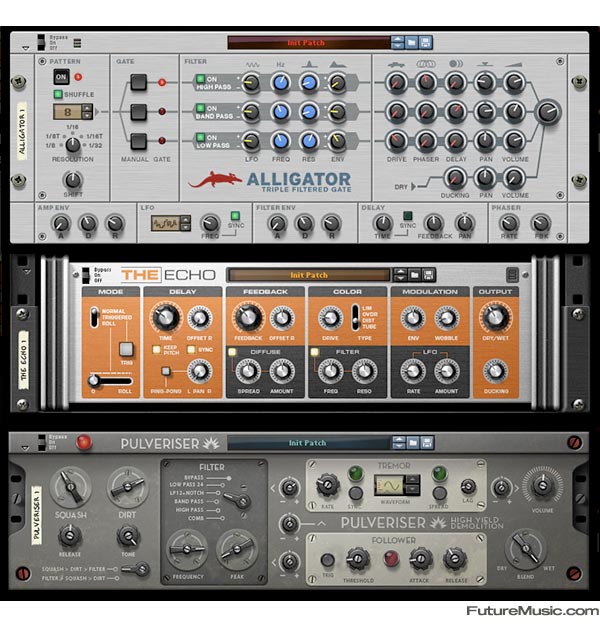 Each one of these exciting new racks has a lot of sound bending potential. The Echo is an advanced stereo echo bringing together the flexibility of modern delays with the organic sounds of analog circuitry and old-school tape machines. The Echo is equal parts stereo delay, sound sculpturing toolbox, and playable performance effect. Pulveriser brings together crunchy compression, dirty distortion, a multimode filter and flexible modulation in a single sound-crunching effect. Apply careful parallel compression to bring out the details of a sample or recording. Use the envelope follower when recording live instruments for responsive, expressive filter effects. Last, but certainly not least, Alligator is a three channel pattern-based gate effect that turns bland pads into rhythmic textures, twists your loops, and tweaks beats into bigtime rhythm mayhem. With its three parallel filters, distortion, phaser and delay, Alligator can add rhythm and accents to a flat synth sound, change the feel of a percussion loop, or be a powerful remixing tool. Add it as an insert effect on a single track to change the rhythmic feel of the sound or apply it to the whole mix for a breakdown section to completely reshape your song.
Distilled from the core of Reason, Reason Essentials contains a great selection of instruments and effects in a virtual rack that builds itself, or can be infinitely customized – drum machine, loop player, sampler, synths, reverb, delay, distortion, mastering effects and more. For guitar players, the built-in virtual guitar and bass PODs from Line 6 bring a wide range of top quality guitar amps, cabinets and effects. (Propellerheads is distributed by Line6 in the States. —Ed.) The entry-level product contains an audio and MIDI sequencer for quickly recording and arranging your inspirations. And Propellerheads claim that users never have to worry about track counts, latency issues or adding that extra reverb or effect.
Unfortunately, it looks like Propellerheads has still not provided third party plug-in support for Reason, something that would really supercharged this new version, but one can still hope for this addition in Version 7.
Kudos to Propellerheads for correcting course and simplifying their product lines. This is a tremendous step in the right direction and will certainly streamline their marketing and product positioning. Finally, creating a digital audio workstation with the Reason mindset will not only elate their current user base, but also inspire new users to make the leap into the world of Reason.




Reason 6 and Reason Essentials begin limited public beta testing today and will be available for purchase worldwide on September 30, 2011 at the following suggested retail pricing: Reason 6: $449 / €405; Reason Essentials $299 / €279.
Propellerheads