Avid Unveils Scorch App For iPad
Avid has unveiled Avid Scorch, a new iPad App. Building on the legacy of the desktop Scorch plug-in, already in use by millions of musicians around the world, Scorch for iPad allows you to view, play back, transpose, mix and perform Sibelius scores on the go. And it includes an in-app store with more than 250,000 titles available for download, including thousands of free scores.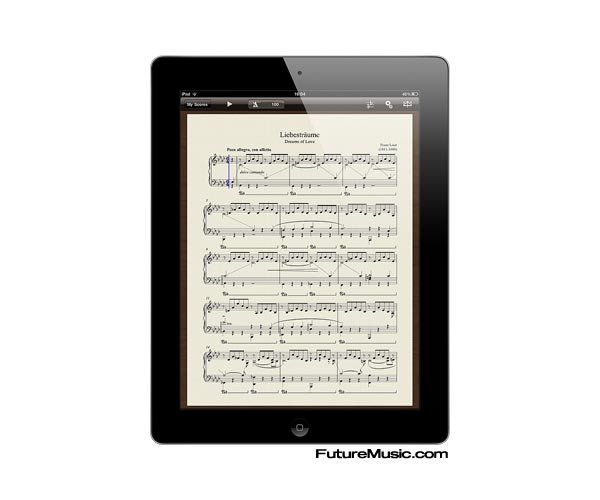 There are lots of sheet music reading apps available for iPad already, but very few of them use a real music notation display engine to show music. 99% of the apps available to date simply display PDFs or other static images. By contrast, Scorch for iPad uses the same music notation engine as Sibelius itself, which means you can directly open Sibelius content in Scorch and play it back, transpose it, view individual dynamic parts, adjust playback via the simple Mixer window, change tempo, and even change fonts if you like.
There's never been a more powerful notation display built into an iPad application. And despite the fact that it's the same heavyweight notation engine used by Sibelius on Windows and Mac, the performance is typical Apple: you can flip between pages quickly and easily simply by swiping on the device. If you're already a Sibelius user, you can now take your music with you on the go without first having to convert it to PDF or another image format. Sync using iTunes, or use the Dropbox app to download and open files directly in Scorch. Scores are added to Scorch's library, and you can view them in a beautiful bookshelf view or a handy grid view. Simply tap on a title to open it, and away you go.
Scorch for iPad is also the first sheet music viewer for iPad to have a built-in sheet music store using in-app purchasing, so you can purchase sheet music using your normal iTunes account – it's as simple as tapping Buy, entering your Apple ID password, and waiting a few moments as the music is downloaded. The Scorch store already contains more than 250,000 titles, including nearly 100,000 scores from SibeliusMusic.com, created by Sibelius users from all over the world, and nearly 150,000 titles from SheetMusicDirect.com, the joint venture between Hal Leonard and Music Sales, including all of the latest chart hits.
Scorch is designed to be used in performance, too. It has a special Music Stand mode, which hides the (already minimal) toolbar and devotes the whole display to a page of music. Tap on the right-hand side of the screen to advance a page, and tap on the left-hand side to turn back: it's quicker than turning an actual page because you don't have to grab the corner of the page and physically turn it, plus the target is nice and big. If you have a Bluetooth foot pedal, such as the AirTurn or the PageFlip, you can turn pages in Scorch simply by pressing the pedal, which is fastest of all. Pair Scorch up with an IK Multimedia iKlip(soon to be available for the iPad 2), and you've got a very handy performing setup.
Avid Scorch for iPad is available now via iTunes for $4.99.
Avid