Pioneer Announces Serato ITCH DJ Controller
Pioneer announced the DDJ-S1 DJ controller specifically designed for Serato ITCH DJ software. he DDJ-S1 controller features the same functionality of a professional player and mixer setup in addition to solid audio quality.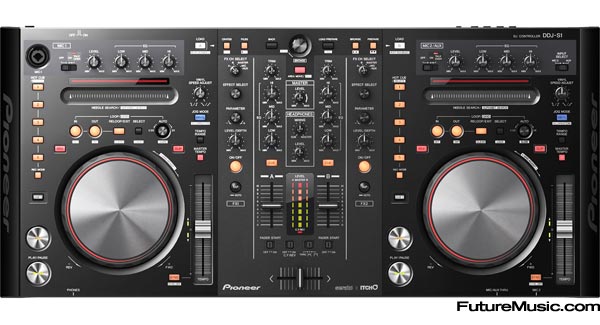 The DDJ-S1 allows for easy transfer of music from the user's laptop with a USB connection for simplicity and quick plug-and-play capability. For additional convenience, the controller also comes with a space saving computer dock that allows a laptop's keyboard to slip directly under the controller, enabling its monitor to be closer to the DJ to provide fast visuals of song information while mixing. The device adopts Pioneer's "P-LOCK Fader Cap," designed to prevent the fader caps from slipping.
Features:
» Plug-and-play USB Connectivity – All buttons and knobs have been pre-assigned,
» DDJ-S1 can be powered through the laptop's USB port
» Multiple Input and Output Options – including a balanced XLR output and 2 Microphone inputs » Designed Specifically for Serato ITCH DJ Software with Advanced Pioneer Functionality » Song progression status on a LED display
» Slip mode for looping, reversing, and scratching without changing the song tempo
» Needle search functionality to quickly skip through songs to a preferred playback point.
» Specially Designed User Interface modeled after the established design of the professional Pioneer DJ player and mixer and integrates centrally placed level meters and an effect control area, so DJs can add Serato ITCH DJ FX to the mix.
» Quality Sound – The controller is optimized for Serato ITCH DJ software and incorporates technology from Pioneer's professional line of DJ equipment to ensure quality sound output.
» Both microphone inputs are equipped with a talk-over function to lower the music volume when receiving voice input from the microphone.
The Pioneer DDJ-S1 will be available in March 2011 for $1599.