Tone2 Audio Release ElectraX Virtual Synth
Tone2 have released ElectraX, a new soft synth featuring multi-synthesis oscillators, analog modeled filters, chaotic fractals, samples, psychoacoustic processing and flexible modulation. Combine multiple polyphonic or monophonic synthesizers and 13 different synthesis methods to create new possibilities, while the preset management system provides access to a large library of sounds crafted by professional designers.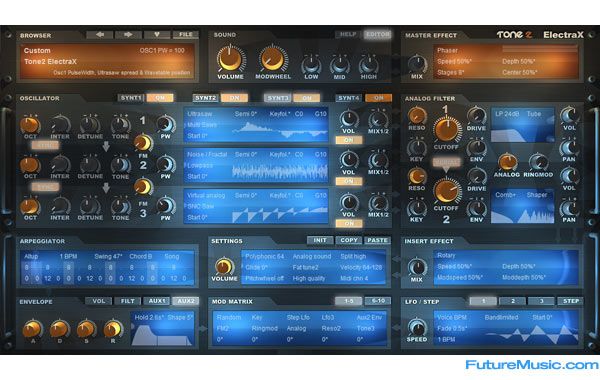 Features:
» Four full-featured synthesizers in one interface
» High-end sound quality with multicore processor support and low CPU usage
» 13 different combinable synthesis methods
» High flexibility and easy to use
» Psychoacoustic processing
» Analog modelling
» 4x multitimbral
» 64×4 voices
» 560 presets
» 23 exclusive analog modeled filter types
» 45 oscillator types
» More than 1000 waveforms
» 18 effect types including on-board Vocoder; Master effect section with Equalizer
» Flexible modulation
» Customizable user interface with 4 skins
» Flexible preset management Features per synthesizer
» Monophonic, legato, polyphonic, glide play modes
» 3 multi-synthesis oscillators
» Multiple synthesis types: VA, FM, AM, Phase Distortion, Samples, Resynthesis & import of custom Wavetables, Ultrasaw, PWM and Sync.
» Exclusive Fractal Synthesis
» Dual multimode filters
» Dual multimode distortion/waveshaper
» 3 LFOs (global or per voice) capable of running into the audio range
» Step LFO, BPM syncable
» Four Envelope generators
» Arpeggiator
» Insert effect, BPM syncable
» Key splitting
Tone2's ElectraX for Mac and PC costs $199 and is available now in the VSTi and AU flavors. More information on Tone2 ElectraX.