Red Bull Launches BPM DJ Apps
Red Bull has launched the BPM range of apps for your iPhone, iPod touch and iPad. The new apps claim to turn your compact computing devices into a complete DJ set-up. The Red Bull BPM applications have been developed over the past 10 months in partnership with Stereomusik Systems in Essen, Germany.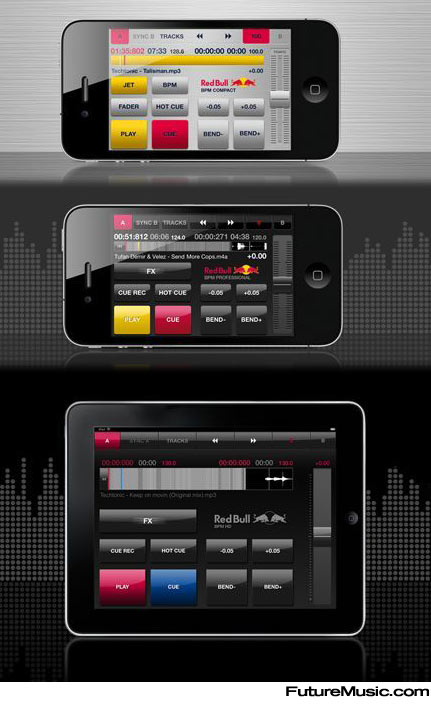 Quick to install and easy to understand, the apps are compatible with a wide range of sound formats. You can use it on it's own and even in concert with your traditional vinyl decks or CD-player. Just add an iPhone, iPod touch or iPad.
The range of brand new DJ applications include a handy customizable player, iTunes library import, built-in effects engine, Vinyl Vision, iTunes tag management, built-in virtual audio mixer, zero latency monitoring and two independent stereo outputs on WLAN or Bluetooth – interested? Then Red Bull BPM apps might be right for you.
An iPod touch, iPhone or iPad only has one stereo output, so how can you listen to the next track before you cue it up? Red Bull BPM apps overcomes this limitation by offering a special audio SPLIT CABLE ADAPTER, also supporting the MasterOut app to provide two separate stereo outputs for monitoring and master for the PRO- and HD version.
The BPM apps come in three different versions, Compact, Pro and HD:
The BPM HD is Red Bull's premier version, which they claim can be used by professional DJs (although your mileage may vary… —Ed.). It works only with the Apple iPad and offers the 21st century digital equivalent of a traditional DJ set-up with two decks and a audio mixer. The app is custom-made for the iPad screen, focused on performance, low latency and core functionality rather than silly graphics effects, or what we like to call "Dancing Baloney." It declares that its contains high-precision track control and real time response.
Features:
» output modes: Classic, Split Headphone (special audio SPLIT CABLE ADAPTER necessary), Split Headphone with Auto Stereo, Home, Club Master
» 2 independent stereo outputs for stereo PFL and stereo master on WLAN with the Red Bull MasterOut app
» 32-bit sound engine
Virtual Mixer
» crossfader with 3 curves (beatmix, constant power, scratch) and 3 modes (classic volume cross, lo-hi/hi-lo filtered cross)
for each channel:
» pitch control fader
» Gain and PGM (Channel fader) with 2 curves (smooth, hard), smooth gain, low/mid/high ±6 db adjust eq (double tap a fader for zero position), low/mid/high mixing eq from cutoff to 0db, hidden cutoff switch below each mixing eq, PFL switch
» calibrated VU meter per channel and stereo VU meter for master, balance control
» pre-listening: master/PFL fader, headphone volume, PFL split or stereo PFL
Deck
» play/pause, rew/ff, regular and frame precise search, adjustable rew/ff step
» Vinyl Vision display shows you the softer and louder parts just like on a vinyl, touch on it to jump instead of search, waveform display for precise cue points
» cue, back cue, hot cue, cue rec, cue pre-listen, 3 levels auto cue (off/soft-digital/hard-vinyl), 3 different modes to store cue points
» pitch control in four ranges: ±4, ±8, ±16 and ±100%, fine adjust pitch step buttons with AutoStep, pitch bend with adjustable strength
Effects
» beatcounter, BPM sync
» bpm-based echo, reverb, flanger, highpass, lowpass, EQ
» adjustable effect parameters on touch pad or with accelerometer, adjustable frequency range
Tracks
» convenient track search via table display with textual search/filter
» sort by artist, title or BPM, section views by first letter or BPM range
» MP3, WAV, AAC, Apple Lossless, AIFF, OGG and FLAC, all formats with the same features and low latency, metadata read
» WiFi upload with iTunes Sync or web browser, iPod library import
Red Bull also offers two ancillary apps, Sync and Master Chief Out, which allow you to Sync tracks to BPM from your iTunes library and broadcast over WiFi and Blue Tooth respectively.
Red Bull's BPM is available now and costs $31 for the HD version, $19 for the Pro version, and $4 for the Compact stylee. The Master Out WiFi Broadcaster is $10. All the cables and such are extra. More information on Red Bull BPM.