NUGEN Audio Unveils VisLM Loudness Metering Solution
NUGEN Audio has announced the VisLM Loudness Metering solution. VisLM is fully compliant with the latest loudness standards ITU-R BS1770 and EBU R128 and offers a complete professional solution to loudness and true peak metering for Mix, Mastering, Film and Broadcast.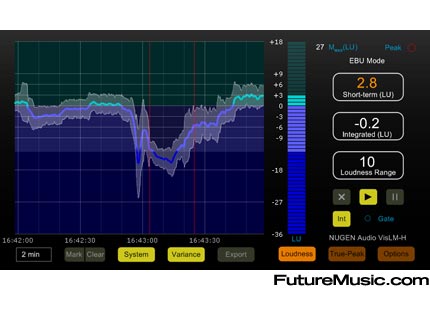 Features:
» True-Peak level metering (inter-sample accurate level monitoring)
» Loudness Range (to help decide if and how much dynamic compression to apply)
» Momentary 'instantaneous loudness' for mixing by ear
» Short term loudness (3 second time window)
» Program Loudness (long term integrated loudness measurement)
NUGEN's VisLM is available in two versions, VisLM-C (compact) for $299 and VisLM-H at $449, which in addition to EBU mode metering provides a loudness history trace and data export. VisLM will be released late Q4 2010. More information on NUGEN VisLM.