Kurzweil Announces PC3K8 Keyboard
Kurzweil has announced the next generation of their PC3 synth, the PC3K8. The PC3K8 allows users to tap into the samples and programs developed for their K Series over the past 18 years and adds some modern capabilities. Capable of loading .KRZ/25/26 sample files, WAVE and AIFF files, as well as most of the K Series programs and setups, the PC3K presents a whole new world of choices to players.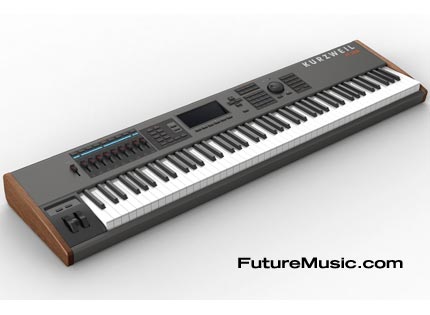 Users can choose to delve into the extensive libraries of existing K Series samples or decide to fill the PC3K8's flash memory with their own signature samples. In either case, you'll have Kurzweil's V.A.S.T technology at your fingertips to help sculpt your sound. Sample files can be loaded via USB from a thumb-drive or directly from a computer.
Tthe PC3K offers 128 megabytes of user sample memory and compatibility with K Series files, while also allowing user samples to remain intact while power is off. Once samples are loaded into the PC3K's flash memory, there is zero load time for those samples when powering on the instrument.
Advanced program, keymap and sample editing features allow you to customize your sounds. You're able to map any sample to any key, tune individual samples, change the start, alt start, loop point and end point of samples and even assign a controller to adjust sample start point in real-time.
Under the hood of the PC3X is simply the most powerful synthesis engine ever created by Kurzweil. Dynamic V.A.S.T. picks up where the K series left off. Having up to 32 layers per program means that emulations of real instruments can be extremely detailed and accurate, while the synthesized sounds can be extraordinarily large and complex. Expanding upon our V.A.S.T. architecture, the PC3X's new architecture delivers more power and flexibility combined with unprecedented ease of use. Users can now create and store their own DSP algorithms, with nearly limitless possibilities for routing.
Another development, is that Kurzweil resurrected the VA-1 Virtual Analog Synthesizer, having built it's synthesis engine right into the new system. The VA-1's power-shaped, anti-aliasing oscillators (including supersaw, triplesaw, and hard sync oscillators) combined with a newer, larger set of V.A.S.T. filters (like the classic-style 4pole low pass w/ resonance) is something that Kurzweil hopes will be the icing on the cake in terms of attracting new buyers.
The Kurzweil PC3K8 will cost $4199 when it bows this Summer. More information on the Kurzweil PC3K8 Synth.