Altec Lansing Unleashes MIX – Boombox iPod/iPhone Dock
Altec Lansing has released MIX, a new boom-box iPod/iPhone dock that packs a serious punch. If you like da "bass in yer face" than the MIX is for you!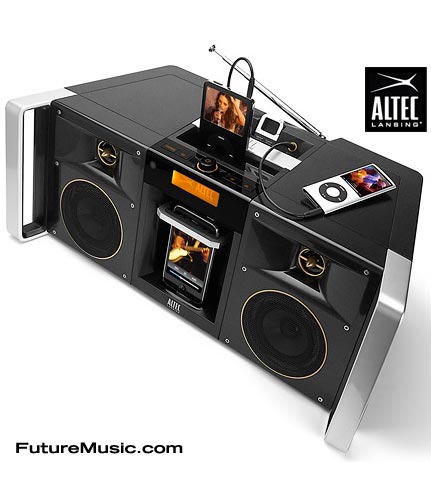 The MIX features a high-contract display that scrolls artists and song titles, is powered by D batteries, and has a killer carrying handle – if you want to hoist this puppy on your shoulders and go Old Skool. (However, if you really want that throwback vibe inna iPod Dock Stylee than check out the Lasonic i931 —Ed.)
Features:
» Audio Alignment – Drivers, enclosure and electronics are balanced for optimum sound.
» Clear high end sound – Specially engineered horn-loaded polypropylene tweeters designed for smooth, wide dispersion.
» Full mid-range – Two custom-designed drivers push room-filling mids and mid bass.
» Bad-Ass bass – XdB bass-enhanced side-firing subwoofer and tuned passive radiator deliver formidable bass.
» Digital FM radio – Tune in to clean reception with telescopic antenna and 4 station presets.
» Dual AUX IN jacks
» Clip-on remote – Change the sources; control the speakers, playlist and song navigation all from the remote.
» Music Pause – Automatically pauses music when a call is received on the iPhone.
» Interference Free – Unique design is claimed to be immune to mobile phone interference
» AC or battery-powered – Plug in or lose the wires with up to 30 hours of play with 8 D batteries.
» High-contrast LCD
» 7-band graphic equalizer – Multiple EQ modes let you select your sound.
» Grab handles
» Universal dock for iPhone and iPod – Recharges while it plays your choons.
Altec Lansing's MIX costs $299 and is available now. More information on the Altec Lansing MIX.