4Pockets Releases Aurora Sound Studio – New Tenori-On Style App
4Pockets have released Aurora Sound Studio, a new app for the iPhone and iPad. The pattern based musical sequencing software reminds us of the Tenori-On, and can have you making grid-based, multitouch music in just minutes. By simply choosing a musical scale every note you play is in perfect tune, leaving you to make your own great sounding music.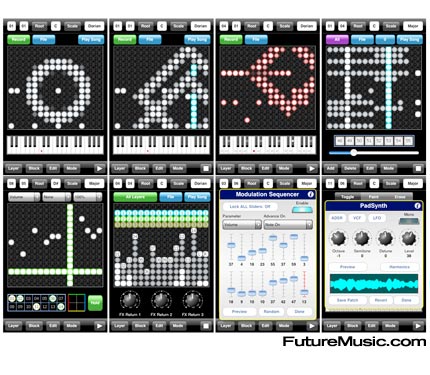 If you are a more accomplished musician you simply switch Aurora to advanced mode and you get full control over the built-in instruments and effects, as well as many advanced modes such as the Atomizer and XY Mode which allows you to manipulate sound in real-time. You can create your own instrument from recordings made using the built in microphone. Just think, a full drum kit of you beatboxing into the microphone!
Aurora allows a mixture of pattern based recording and live performance. You can piece together complete compositions or simply improvise a performance. All of which can be captured to a file, for use as a ringtones, or to share with others. An integrated mixer, combined with the ability to add audio effects and layer automation means that you achieve a sophisticated sound in a fun and user friendly way.
Features:
» Create up to 32 patterns with seamless transitions
» Up to 14 layers (instruments) per pattern can be used
» Song creation of up to 199 patterns
» Choose between Basic and Advanced modes
» Many popular musical scales available
» Interchangeable instruments (drum kits, synthesizers and samplers)
» Layer Automation, allows real-time manipulation of program parameters
» XY Mode allows smooth transitions between instruments, panning and effects etc.
» Atomizer mode allows real-time splicing and looping of audio
» Full instrument editing and user patch creation
» Real time key and tempo changes
» Sample your own instruments using the internal microphone
» Import samples to create new sampler and drum kits patches
» Full sample loop editing
» Add effects such as echo, reverb, phaser and filters etc.
» Transpose song and pattern function
» Full Cut, Copy and Paste of patterns and layers
» Fully integrated help and Guided Tour feature
» Record to file functionality for exporting your masterpiece
» Integrated 14 channel Mixer
» Each layer can have different note lengths (from whole to 1/64th notes)
» Definable visual layer effects
» Sample Accurate Timing
» Fully configurable audio settings
» Upload and share songs
4Pocket's Aurora Sound Studio costs only $10 and is available now. More information on the 4Pocket Aurora Sound Studio.