Ohm Force Fumbles Ohm Studio Announcement
Ohm Force, makers of assorted plug-ins, is attempting to generate some interest in their new collaborative online Digital Audio Workstation (DAW) with a piss-poor online effort. The takeaway: If you really don't have anything to say, keep quiet until you do…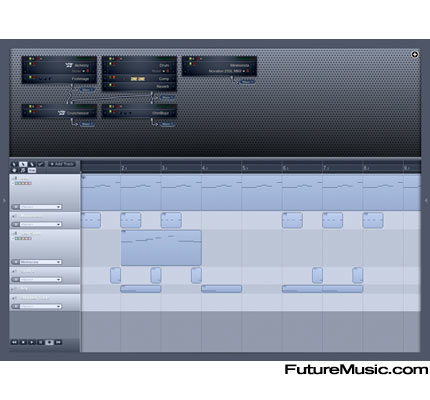 What we can tell you, from their anemic website is that Ohm Studio is a standalone real-time collaborative music making application (audio/MIDI) in addition to a web based collaboration platform and a music driven online cohmunity for Windows or Mac OS X. (Yes, "cohmunity" is Ohm's spelling. They couldn't even be bothered to spell-check their copy. But here's the kicker: they spell it "cohmunity" throughout the site, so they actually think that's savvy. Yeesh!! —Ed.) The Ohm Studio is the answer and even goes one step beyond: interface innovation, integrated web cohmunity, server based projects, undo/versioning and much more. From this day forward, the meaning of online music collaboration is being redefined. (Unfortunately, we cannot say that about your marketing and promotion. —Ed.)
Instead of real concrete details we get a lot of idiotic backstory, which we'll promptly make fun of…and away we go:
In 2000, a bunch of music geeks gathered around their computers, only to find themselves guided by a strange and mysterious power — the power of creating stupid copy instead of giving us real detail of Ohm Force. It revealed to them the essence of audio processing which they used to create the now mythical Ohm plug-ins. But they had a secret goal! To change how the world spells community??
This secret and long term task was to venture beyond the plug-in world and explore the other dimension of sound creation: those humanoid artists what?? why leave out the creatures of the sea? that play with computers. Thus Ohm Force, by the sweat and steel of its humble, sandwich-peddling warriors, (Sandwich-peddling? WTF? Is that supposed to be funny?? Remember kids, don't smoke Crack. —Ed.) has been laboring to conceive a new type of music workstation – one that will bring real time creative harmony to the world. Yes, you read that right: Ohm Force is announcing the first real collaborative music workstation in the history of music production: the Ohm Studio. (It's not the first. —Ed.)
Ohm Studio: a standalone real time collaborative music making application for Windows and Mac, in addition to a web based collaboration platform and music driven online Cohmunity. We're also talking about real time collaborative MIDI/audio editing, envelopes, a piano roll, audio effects, and virtual instruments. How is this possible? Through cohummity!! Using an audio core made from scratch, of course, an adaptive audio transfer protocol, a transactional document management engine, an integrated web Cohmunity, server based projects and more…
With Ohm Studio, it will be possible to set up a productive workspace to make music together and with ease. No more big files transfers, no more endless set up incompatibilities. And as with a conventional studio session, communicate with each others thanks to the in-app chat system that makes it simple to share any thought, instruction or comment. "I just farted!"
When searching for music partners, you will now be able to search for musicians from around the world. Through the Ohm Studio Cohmunity you will discover collaborative projects that appeal to you and find new people with whom to make music, searching by style, mood, skill, city, country and more. You may discover that the drummer or the singer you have always been looking for is only a few clicks away!
No pricing or availability has been announced. More information and cohmunity on Ohm Force Studio.