Softube Announces Valley People Dyna-mite Emulator
Softube has announced the Valley People Dyna-mite, an emulation of the "swiss army knife limiter/expander design." The Softubers claim the Valley People Dyna-mite has become a secret weapon and a hidden treasure just waiting to be discovered by others. We have no idea what that means in terms of sound, but "secret weapons" and "hidden treasure" are two things, we do like.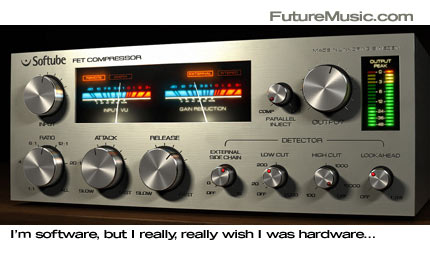 The picture above is a "representation" of the company's FET Compressor plug-in. Softube also gave the Dyna-mite the same treatment, but the picture is quite small, so we used the FET to go on the following useless tangent. Why do many plug-in manufacturers chose to portray their wares as hardware? Insecurity? Hardware lust? They wish their secret weapon/hidden treasure was actually something you can touch?
…we have no idea, but thought we'd mention the trend. Now back to our regularly scheduled program:
The Village People Dyna-mite features a limit mode, an expander mode, a gate mode, a de-esser mode and two sidechain modes that let you duck or follow a track.
Features:
» Faithful replica of the Valley People Dyna-Mite, a multi-dynamics tool capable of limiting/ compressing, expanding, gating, keying, ducking, de-essing, etc.
» Limiting: Peak and average limiting, incl. negative ratio (-20:1) limiting and detector HF filtering (for De-Essing purposes).
» Expanding: Hard or soft with extreme gate settings and detector HF filtering.
» Ducking or Keying modes with external side chain (where available).
» Threshold knob with auto make-up gain.
» Release ranging from 0.05 to 5 sec/20 dB with Anticipatory Release Computation (ARC) to reduce pumping.
» Output volume with accurately modeled output distortion and clip LED.
» Range knob that controls maximum amount of expansion or limiting.
» Built-in interactive guide that displays current settings and active mode.
Softube's Valley People Dyna-mite will be available on May 3rd at your Grocer's Freezer. No pricing has been announced. More information on the Valley People Dyna-mite plug-in from Softube.