Numark Premiers X7 – Flagship Four-Channel Digital DJ Club Mixer & MIDI Controller
Numark took the opportunity that is MusikMesse to premier the X7, a four-channel, digital club DJ mixer designed for their V7 digital decks. This MIDI and USB mixer can link two V7s using Numark's powerful communication protocol, which enables system connection to your computer with a single USB cable. The link streams high-resolution audio and control information between X7, V7s and software.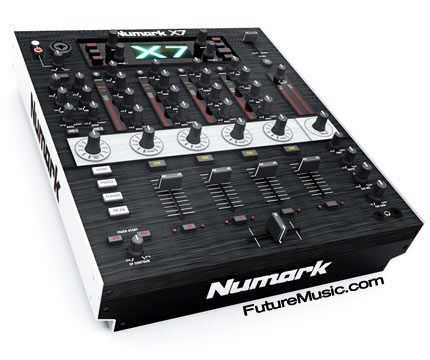 The X7 contains two USB interfaces, which enables two DJs to connect computers simultaneously. This capability enables multiple DJs to perform at the same time, aids in seamless transitions between performers, and opens the door to new dual-laptop-performance possibilities. X7 can even sync tempo between the two laptops.
Features:
» Four-channel, 24-bit digital mixer
» Full MIDI and USB implementation with two USB interfaces and MIDI jacks
» V7 system link for streamlined audio and data management
» Dual USB interfaces enable two DJs to connect computers simultaneously
» Enables club owners and techs to lock out or limit master-output level
» Fine-tune acoustics for your specific room with parametric equalization
» Housed in a rugged, heavy-duty steel casing
» Premium buttons, knobs, and faders for smooth, sturdy performance and feel
» Complete range of beat-synced effects and filters
The X7 contains technologies and capabilities that are designed specifically for the club. The X7 has the ability to lock out or limit its master-output level. You can fine-tune X7's acoustics for your specific room with parametric equalization. X7's four input channels provide flexibility for future expansions in your technique and style. X7 features 24-bit audio circuitry.
No pricing or availability has been revealed. More information on the Numark X7 Digital Mixer.