Korg Premiers Monotron – Has The Company Officially Lost It?
We were hoping that the Electribe refresh was just a momentary excursion for the Japanese company into horrors of Crack addiction, but then we saw the Monotron. Looking more like it should be included in a cereal box instead of on the MusikMesse floor, The Monotron is a matchbook synthesizer that will make a great gift for your music-inclined hamster.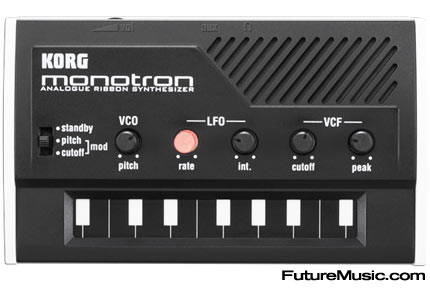 Powered by two alkaline AAA batteries, the compact Monotron can be held in one paw hand. The panel contains only five knobs and one switch. The Monotron contains a ribbon controller keyboard, which allows simple finger gestures to produce effects such as vibrato and glide. It also features one voltage-controlled oscillator, one voltage-controlled filter, and one low frequency oscillator for sound creation based on the classic MS-10 and MS-20 semi modular synthesizers.
The Monotron sports an external input for processing incoming sounds and an internal speaker so you can annoy the hell out of fellow straphangers on the bus or subway.
Now as much as we think some of their designers have gone off the deep end, we can only say that their marketing department is completely bonkers. Here's how they describe this product in their own words:
"Used in a band, you can expand your possibilities by harmonizing with another instrument – or taking center stage for a monotron solo!" Are you f-ing kidding us?? Used in a band??? What performer is going to take center stage tweaking an instrument the size of a condom?
Features:
» analog synthesizer: VCO, VCF, LFO
» ribbon keyboard
» same classic analog filter from the Korg MS-10 & MS-20
» Filter any external source using the audio input jack
» LFO can modulate either pitch of filter cutoff
» LFO Rate knob features LED visual indicator.
» Battery operation and micro size
» Internal speaker/headphone jack
Here's a video showing someone trying to play this postage stamp with their meaty paws:
Another marketing gem: "Since each knob directly applies a specific change to the sound, the process of sound creation is intuitive, and instantly understandable. Simple is best. Gone are the deep lists of presets and parameters typical of today's synthesizers." How dumb do you think the public is? Do you really think a consumer expects a "deep list of presets and parameters" on a device the size of a sugar packet?? Yeesh!
The Korg Monotron costs about $70. More information on the Korg Monotron.