ADAM Audio Debuts New AX Series Monitors
ADAM Audio has debuted two new studio monitors in their AX-Series line up. The new A5X and A7X are joined by two new models, the A3X and A8X. All AX models benefit from technical advances achieved by the new SX series, which impressed many at this Fall's AES show in NYC.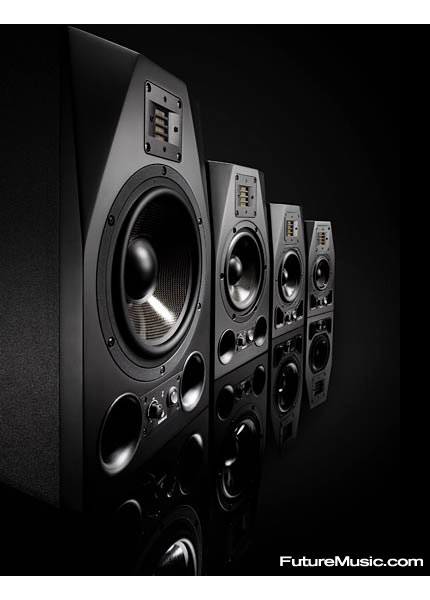 The changes made to the A5X and the A7X are a complete revision of the A-Series. One of the main improvements is the inclusion of the new X-ART tweeter, developed for the SX-Series, which replaces the legacy ART tweeter in the new AX versions. The X-ART tweeter features an even higher efficiency and maximum sound pressure level as well as a frequency response up to 50kHz. All woofers and amplifiers have also been reengineered from scratch, featuring larger voice-coils and amps with twice the power for higher linear excursions and more output. Last but not least, the cabinets have been redesigned, all models sport two bass reflex ports.
Finally, two completely new models complement the AX-Series. The A3X is now ADAMs smallest monitor ever, and the larger A8X opens the door to midfield monitoring and is the top of the AX line.
ADAM is looking for serious traction with the new A5X that combines a very small footprint and therefore is suited for environments where space is limited. Two built-in 50 Watt amplifiers (twice the power of the original A5) power the drivers directly. The front of the A5X sports dual ports for nice low frequency response down to a claimed 50Hz, as well as power and gain controls. The rear panel includes balanced (XLR) jacks, unbalanced (RCA) jacks, a tweeter gain, and two shelve filters.
The A5X employs a Stereolink. This new technology connects two A5X speakers in such a manner as to allow the user the option to control the overall stereo volume of the system from either speakers gain control. This makes the A5X a natural for "mixer-less" desktop applications where overall system volume needs to be adjusted easily.
More information on the ADAM Audio AX monitor Series