Pioneer Readies DJM-2000 For Frankfurt Debut
Pioneer is readying the DJM-2000 for its debut at MusikMesse in Frankfurt next week. The DJM-2000 is Pioneer's new flagship performance mixer and is has been tailored for their CDJ-2000 digital deck with a touch screen interface. Pioneer has upped the ante on live-remixing capabilities with six individual effects processors to tweak your tracks.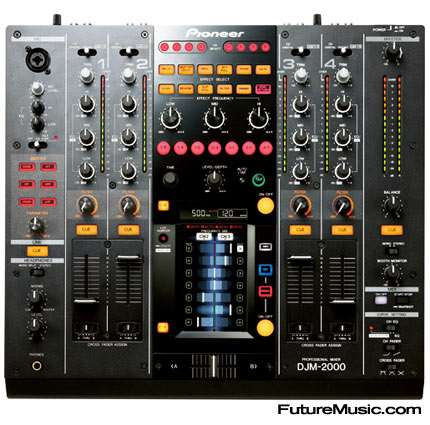 The DJM-2000 has effectively built in the technology of PIoneers stand-alone EFX-1000, removing the need for an external effects unit along with touch screen technology from the SVM-1000. The ProDJ Link function makes it easy to switch over from one DJ to the next. By connecting up to 4 CDJ-2000s / CDJ-900s via LAN cable into the mixer and two laptops running rekordbox via USB In, the DJs can share music libraries across all decks.
The DJM-2000 also contains the very first 5.8" large LCD multi-touch panel allowing the DJ to use touch panel effects whilst checking them visually. It also comes with beat effect and INST FX functions, which means the DJ can alter the sound spontaneously without having to connect to multiple devices. Another highlight of the INST effects is that they are available individually on each of the four channels. They offer more accurate control of filters, and the Hi Mid and Low EQ on each channel can be switched to make them Isolators. The CDJ-2000 and CDJ-900's HID control of DJ software allows virtual decks to be manipulated without time-code vinyl, and now the DJM-2000 further simplifies connectivity directly to your Mac or PC by having a soundcard built in.
Features:
» Interface layout allows more originality in arranging music
» 5.8 inch Full-Colour, Multi-touch Display
» Three Performance Modes
» Evolved Beat Effects manipulate every frequency and alter sound to the beat
» 6 INST FX on every channel with rotary control
» Connect 4 CDJ-900/2000 and 2 rekordbox laptops via ProDJ Link
» Internal USB Audio/Midi Interface
» High-quality Sound Design Achieves Ideal Club Sound
» Isolator EQ on every channel
No pricing or availability has been announced. More information on the Pioneer DJM-2000.