Rane Unleashes Sixty-Eight DJ Mixer – Supports Two Computers
Rane has introduced the Sixty-Eight DJ mixer, which features support for real-time connection of two computers, two USB 2.0 High Speed ports, four decks and a range of effects. The support for two different computers is designed so that two DJs can seamlessly transition from one DJ to another, however, this also gives two Serato DJs the ability to DJ at the same time, opening up interesting possibilities.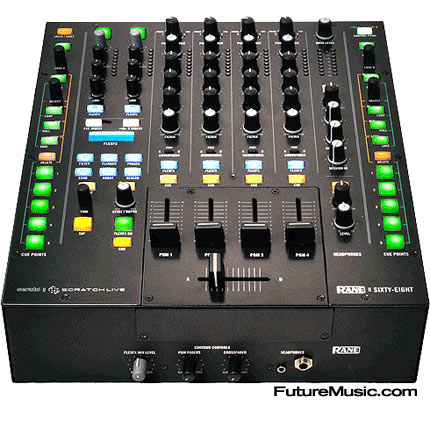 Features:
» Two independent USB 2.0 High Speed ports, each supporting twenty-two, 32-bit floating-point audio channels at 48 kHz.
» Real-time support for two computers.
» Support for 2, 3 or 4 Virtual Decks on one or two computers.
» Direct control of over 30 Scratch Live Library, Cue and Loop functions.
» Unique FlexFx bus:
— Process a sub-mix of up to six audio channels.
— Six internal effects with seamless on-beat switching between effects.
— External analog insert support for legacy hardware effects.
— USB insert support for computer-based effects.
» Four full-featured input channels:
— Four stereo Phono/CD inputs of Line, Phono or S/PDIF.
— Four stereo auxiliary inputs.
— Four stereo USB playback options.
» Two mic inputs: one with phantom power and one with line-level.
» 3-band full-cut EQ, plus new High-pass / Low-pass Filter.
» Flexible USB recording options, record from any PGM or output.
» Internal universal switching power supply (100-230 VAC)
» Unit size: 14.3″H x 12″W x 4″D (36.4 cm x 30.5 cm x 10.2 cm)
» Weight: 11.3 lb (5.2 kg)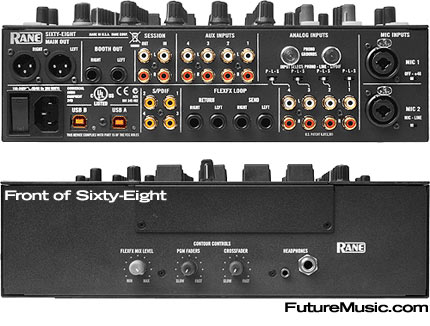 Back Panel Action:
» PGM Inputs 1-4 — The Sixty-Eight has four stereo analog inputs for PGM 1 through PGM 4. Any of these analog inputs may be set for Phono Input, Line Input or S/PDIF using the P – L – S switches on the rear panel. Any of the four analog inputs may be used for Scratch Live vinyl emulation control. Input 1 or Input 2 may be selected for Scratch Live Virtual Deck 1 control. Input 3 or 4 may be selected for Scratch Live Virtual Deck 2 control. Control input sources are selected in Scratch Live.
» Mic Inputs — The Mic Inputs accept an XLR or a balanced or unbalanced 1/4″ plug. Mic 1 has a switchable phantom power option, and Mic 2 has a switchable line level option.
» Analog Outputs — All analog outputs come from the same "Main Mix" signal. Main, Booth and Session outputs each have their own Level control. The Main output is on balanced XLR jacks. The Booth output is on balanced 1/4? TRS (tip-ring-sleeve) jacks, though unbalanced TS (tip-sleeve) plugs may be used. The Session output is on regular unbalanced RCA jacks. Because all signals are identical, users may use any of these outputs as the "main" output if a different cable type is required for connection.
Front Panel Controls:
» The FlexFx Mix Level controls the level of the FlexFx signal going to the Main Mix.
» The Contour Control for the PGM Faders affects all four channel faders.
» The Contour Control for the Crossfader has a separate adjustment.
» Both 1/4″ and 3.5mm headphone jacks are ready to plug into.
» The Fader section is easily removed for cleaning or replacement.
No pricing or availability has been announced. More information on the Rane Sixty-Eight DJ Mixer.