Moldover Releases Limited-Edition Mojo Performance MIDI Controller
Controllerism genius, Matt Moldover, has released a production-quality version of his own Frankenstein-Controller. The innovative, performance oriented controller, dubbed the Mojo, features many of the concepts that Moldover has time-tested via his own performances around the world.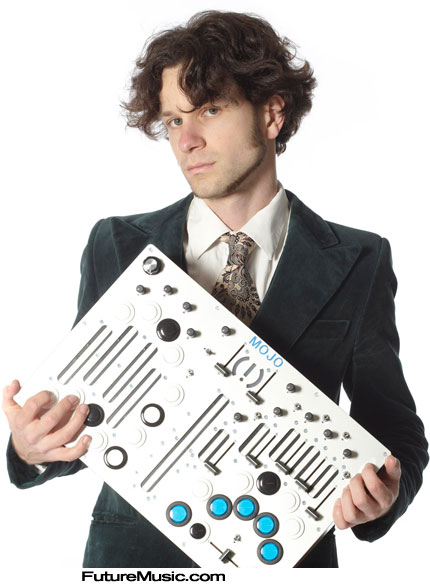 "Assimilating ideas from traditional instruments, DJ hardware, and game controllers, the Mojo puts an unprecedented level of power and completely intuitive control in your hands. Combining ergonomic elegance, rapid-fire tactile responsiveness, and bullet-proof construction, the Mojo is the sexiest controller in the entire multiverse," Moldover reveals.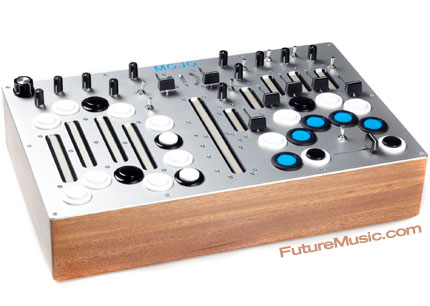 Features:
» Works with all MIDI compatible music software
» Includes new Moldover template for Ableton Live
» 10 ultra-responsive touch strips
» 24 competition-grade arcade buttons
» Rubberized knobs, rugged faders and burly toggle switches
» Assembled in San Francisco CA by Andy from Pance Party
» Sexy mahogany body by Livid Instruments
» Scratch-resistant anodized aluminum faceplate
» Environmentally sealed twist-lock USB cable included
» USB bus powered electronics by Hale Micro
» Class-compliant USB device (no driver to install)
» Free copy of Moldover's self-titled album included
» Will totally get you laid
» Dimensions: 11.5″ x 18″ x 4″, 7.5lbs
Although we can't substantiate the "Will totally get you laid" feature until we get our grubby hands on the device for a review, buying a Mojo will probably be more cost effective than buying all those penis enhancement products you've been wasting your money on.
Moldover's Mojo costs $1799 and will be available in March in limited quantities. More information on the Moldover Mojo.