Denon DJ Unveils DN-HC1000S – Micro MIDI Controller For Serato Scratch Live
Denon DJ has unveiled the DN-HC1000S USB MIDI Micro-Controller for Serato Scratch Live. The DN-HC1000S is designed to directly interface with and aid DVS systems (turntables / CD players) with Scratch Live. The DN-HC1000S offers simple plug 'n play operation via self powered USB connectivity, and it replaces the standard PC keyboard for DVS systems with a set of dedicated controls, including track select and fast search, SHIFT/CLR button, five "hot start" and three sampler buttons, auto loop, Loop IN-OUT with exit/reloop, history and a TAP button.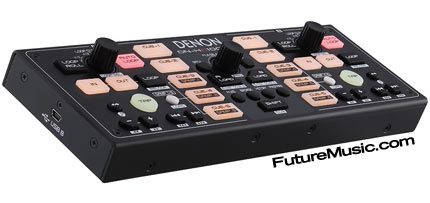 Features:
» Serato-approved USB MIDI Sub Controller for Serato Scratch Live
» Simple USB plug-and-play Connection (USB MIDI / Bus power)
» Dedicated tactile controls to replace computer keyboard shortcuts
» High-quality steel cabinet with rugged rubber keys
» File Select knob and buttons with back-forward action keys
» Track Select and Fast Search buttons
» SHIFT/CLR Button
» 5 Cue Point and 3 Sampler Player buttons
» Auto Loop button with Loop Cut knob & Roll
» Loop IN/OUT button with Exit/Reloop
» File, Browse, History and Prepare keys
» Tap button
» MIDI mappable for other DJ software systems
» Unit measures 9.8" width x 3.4" depth, and weighs under 3 lbs
The Denon DJ DN-HC1000S USB MIDI Sub-Controller is now available for $200. More information on the Denon DJ DN-HC1000S.