Spectrasonics Releases Trilian – Total Bass Module
Spectrasonics has released Trilian Total Bass Module, a new virtual instrument dedicated to all types of Bass sounds – Acoustic, Electric and Synth.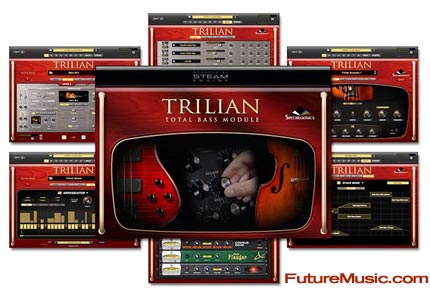 Spectrasonics claims Trilian has been designed from the ground up to be the most versatile bass virtual instrument available today with a new level of expressive, real-time performance for acoustic and electric basses – plus cutting-edge synth bass tones with powerful editing and extraordinary sound quality. Trilian is the successor to Spectrasonics' award-winning Trilogy bass instrument, with the new instrument offering a deeper control of musical expression and much greater flexibility of sound shaping.
Trilian's 34GB library is 10-times the size of Trilogy and features all new acoustic, electric and synth basses. With its comprehensive design, Trilian brings many different types of bass together into one extraordinary-sounding virtual instrument.
Powered by next generation STEAM Engine technology, Trilian is the first instrument to feature core library integration with Spectrasonics flagship Omnisphere(r) synthesizer – allowing Trilian's sounds to be used within the Omnisphere environment for further sound design and keyboard/bass splits.
Spectrasonics' Trilian costs $299 / €229 and is available now. More information on Spectrasonics Trillian.