PreSonus Announces FireStudio Mobile
PreSonus has announced the FireStudio Mobile, a 10-input, 6-output interface created for portable recording rigs and small studios. With eight analog inputs, the FireStudio Mobile for Mac and PC can be powered from the FireWire bus or using the included 12 VDC adapter. You can simply place it on a tabletop or screw it onto any standard 19-inch rack tray.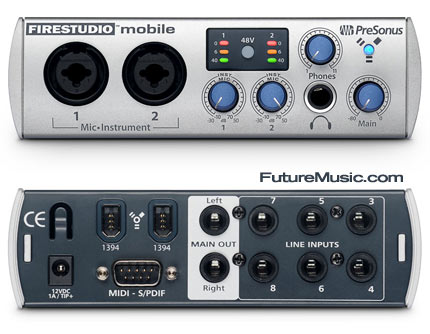 The FireStudio Mobile is compatible with any ASIO- or Core Audio-compliant audio application for Mac OS X or Windows XP/Vista and integrates tightly with PreSonus Studio One Artist recording and production software (included).
The front panel features a pair of combination XLR/TS mic/instrument jacks, which are in the inputs for channels 1 and 2. The XLR mic inputs are routed to PreSonus XMAX solid-state mic preamplifiers. The high-impedance, TS instrument inputs let you plug guitars or basses directly into the front panel. All signals are converted to and from the digital domain using 24-bit, 96 kHz A/D/A converters, which offer a claimed 118 dB of dynamic range.
A pair of three-LED level/clip indicators let you check the signal levels for channels 1 and 2, and a button enables 48V phantom power for the two mic channels. Also on the front panel are a stereo headphone output with gain knob and gain knobs for the two mic/instrument inputs and for the main stereo outputs. Gain for the mic inputs ranges from –10 dB to +70 dB; the high-impedance instrument inputs range from -30 dB to +50 dB of gain. Finally, a power/sync indicator LED shows whether the FireStudio Mobile is receiving adequate power and is correctly receiving word clock.
The rear panel sports balanced TRS line-level inputs for channels 3 through 8, as well as impedance-balanced TRS left and right main outputs. A DB9 connector accepts a breakout cable (included) that provides stereo S/PDIF digital I/O and MIDI I/O. You get two FireWire 400 ports: one FireWire port connects to your computer, and the other can be used to connect a hard drive or to daisy-chain any FireStudio-family interface, including the StudioLive 16.4.2 digital mixer, allowing you to integrate the FireStudio Mobile into a larger system. A barrel connector for the 12 VDC power adapter completes the rear panel.
As part of the Studio One Artist package, you get 20 new PreSonus Native Effects plug-ins and virtual instruments. The effects include EQs, a compressor, reverbs, and much more. The PreSonus VIs include the SampleOne sampler, Presence sample player, Impact sample-trigger/drum instrument, and Mojito subtractive synth. You also get 32 Ueberschall drum kits for Impact; 200 Digital Sound Factory sampled instruments for Presence; Native Instruments Kore Player, with 150 instruments; Native Instruments Guitar Rig LE; Toontrack EZDrummer Lite; and nearly 1,400 drum loops (1.4 GB) by Bandmate Loops.
PreSonus' FireStudio Mobile costs $299 and will be available this Fall. More information on the PreSonus FireStudio Mobile.