Apogee Announces GiO – USB Guitar Interface For Mac
Apogee has announced GiO, a guitar interface for Apple's new Logic Studio 9, MainStage 2 and GarageBand '09. Combining effects control, recording functions and sound quality, GiO delivers total access to incredible sounding guitar amps and effects in a single foot controller and interface.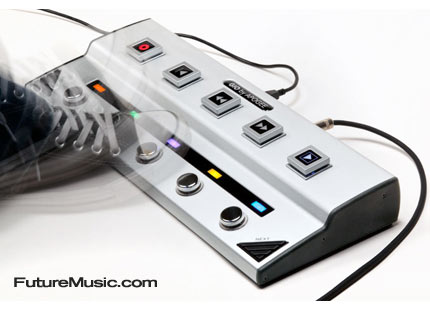 Features:
» Unbalanced 1/4" high impedance instrument input
» 1/4″ MIDI Expression pedal input
» Line-level, 1/4″ stereo output for headphones, powered monitors or an instrument amplifier
» A/D and D/A conversion @ 44.1/48kHz, 24-bit
» 5 Stompbox buttons, dynamically color coded to match software effects
» 5 Transport control buttons, dynamically lit when engaged
» 2 Previous/Next preset selection buttons
» Control built into Apple's GarageBand '09, Logic Pro 9, and MainStage 2 software
Designed to work with the new Logic Studio 9 and MainStage 2, GiO allows guitar players to control recording functions, preset changes and plug-ins like Amp Designer and Pedalboard, along with new Playback and Loopback features in MainStage. With GarageBand 09, GiO is truly plug-and-play and lets users quickly connect their guitar, select and control built-in Amps and stompboxes, and record. With GiO, you can audition effects presets in GarageBand, Logic and MainStage, and turn effects on and off while playing or recording… all without touching your keyboard.
GiO frees you from key-command recording allowing you to concentrate on your performance and not the space bar. The five transport buttons on GiO let you record, play, stop and quickly navigate thru your track without taking your hands off the neck of your guitar. Previous and Next preset select buttons let you quickly audition and toggle between guitar amps and effects presets in Logic and GarageBand and the patch lists in MainStage.
GiO's 1/4" instrument input features Apogee's instrument preamp and converters. Hear and record your guitar's true tone straight into Apple's music software without compromise. GiO is optimized for all pickup configurations from the most basic single coil to sophisticated active electronics setups.
GiO's Expression control pedal input allows access to traditional effects like wah-wah, and volume. Also, control effects parameters like the length of a delay or the speed of a tremolo. (Expression Control Pedal not included)
GiO is fully powered by the USB connection to your Mac eliminating the need for an external power source. Simply plug into an available USB port on any Mac and you're ready to go.
Hear your guitar and recording like never before. Connect your headphones, powered monitors or instrument amplifier to Apogee converters via GiO's 1/4" stereo output and listen to your guitar and mix with incredible clarity and dimension.
Apogee's GiO will be available sometime in September 2009 – no pricing has been announced. More information on the Apogee GiO.