Pilotfish Launches Ondo Music Studio Phone Concept
Pilotfish, a progressive industrial design and psychedelic drug studio based in Munich, Amsterdam and Taipei, has introduced Ondo, a dedicated music studio phone concept. Pilotfish claims the Ondo concept enables equipment manufacturers to visualize a new form of music interaction for mobile phones. The idea is provocative for sure, but how large the market truly is for this type of device remains to be seen.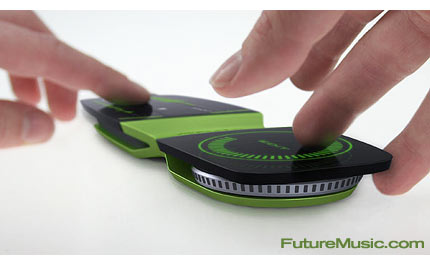 Pilotfish goes on to postulate that the target user for Ondo is "the music enthusiast who seeks to interactively capture and edit sounds. Going beyond software-based solutions of other products, it is specifically designed to effectively collect pure sounds and is specially constructed to create a tactile sound editing experience."
Made from form-sensitive flexible materials, Ondo allows the user to modify recorded sounds by physically twisting and bending the device, which they call "editing" — but most of us would refer to this as "tweaking." The two effects they demonstrate in their promo video are a Flange and a Filter.
Another feature of Ondo are the three removable display sticks. In their normal state, the sticks act as a unified touch display for the mobile device. When removed, each can be separately utilized as microphones by attaching them to a musical instrument or person to capture live sound. Each stick is a separate mic which feeds into a separate channel on the base unit. The recordings can be immediately sent via MMS (Multimedia Messaging) around the globe allowing musicians at different geographical locations to sort of collaborate, but not in real time.
In party mode, Ondo works as a DJ mixer enabling the user to create seamless transitions between songs. This is made easy with interactive touch functions combined with integrated software support.
More information on the Pilotfish Ondo Music Studio Mobile Phone.