Electro-Harmonix Gives Us The Finger
Electro-Harmonix has announced the classic White Finger FET (Field Effect Transistor) compressor. The Finger's small footprint allows for easy fit into any pedal board or set up.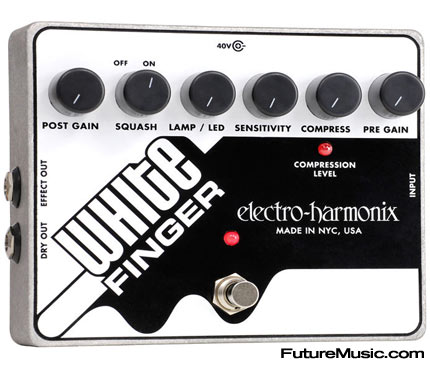 The XO White Finger treats an incoming signal with an optically controlled attenuator comprised of a fixed resistor and a shunt opto-coupled photocell. Because this attenuator is passive, as opposed to the more common active AGC (Automatic Gain Control) compressor circuits, it does not add an electronic signature to the signal, thus preserving the tone and character of the original sound.
The Black Finger vacuum tube compressor, released in 2003, became the standard for quality optical compression in a performance pedal. The XO White Finger uses the same optical technology but utilizes a Field Effect Transistor in place of vacuum tubes. Its warm and articulate compression is suitable for guitar, bass and experimenting.
Features:
» LED opto-coupler for a faster attack compression
» Lamp opto-coupler for softer blooming compressor
» Quiet long sustains with transparent tones
» Pre-gain control lets you control how hard your instrument hits the compressor
» Sensitivity knob for control of how the compression will be hit
» Compression amount allows you to dial in the perfect ratio for your music
» Same compression theory as our professional NY-2A but uses FETs instead of tubes
» 40DC-100 power supply included
No pricing has been announced. Look for the Electro-Harmonix White Finger in your Grocer's Freezer sometime this month. More information on the Electro-Harmonix White Finger.